Route 66: The Mother Road (Paperback)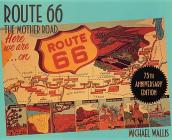 $24.99
Usually Ships in 1-5 Days
Description
---
America's Main Street is celebration, Michael Wallis hit the road again, revisiting people and
places that made the Mother Road on American icon, and uncovering new treasures. A love
letter and a tribute, Route 66: The Mother Road takes us on an unforgettable journey through
the secret corners and hidden towns of America's most famous and beloved highway.
About the Author
---
Michael Wallis is an award-winning historian of the Old West and author of Route 66: The Mother Road.
Praise For…
---
"Like others before him, from John Steinbeck to Charles Kuralt, Michael Wallis went on the road in search of America. The result is...a colorful paean to a most romantic byway." --The New York
Times

"Since the do-gooders abolished public hangings, the only show in town worth watching is the
traffic on Highway 66 heading West, and Route 66: The Mother Road is the best book we have
to tell us what we are seeing." --Stanley Marsh III, owner of the Cadillac Ranch, Amarillo,
Texas

"This story of our nation's most famous highway keeps alive an important part of American
history. It's a delight!" --Will Rogers, Jr.

"Route 66 changed the course of my whole life. I will treasure my trip forever, and this book
recaptures very vividly every memory." --Bobby Troup, songwriter of "(Get Your Kicks on)
Route 66"

"Any of you who love nostalgia will love Route 66: The Mother Road as much as I do." --Tony
Hillerman

"A love letter to the road...{Wallis} wraps the history of the route around pictures of it and lets the
people who have traveled and lived along the Mother Road tell their stories." --Kelli Pryor,
Entertainment Weekly