Survivor Song: A Novel (Hardcover)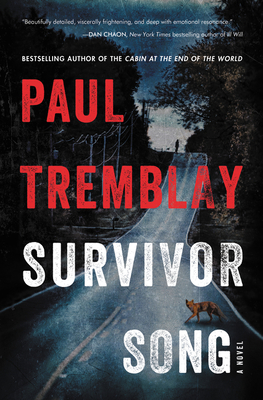 List Price: $27.99
Our Price: $22.39
(Save: $5.60 20%)
Coming Soon - Available for Pre-Order Now
Staff Reviews
---
An epidemic super-rabies sweeps across New England, turning the infected, animals and people alike, into raging, violent, biting (don't call them the Z-word!) dangers to themselves and everyone else. Natalie, eight months pregnant, is bitten by an infected berserker and must to get to an overrun hospital for the vaccine that might save her and (/or?) her baby's life. The whole book takes place over just a few hours, and you can't put it down, experiencing this desperate race to stay alive in real time. Tremblay does what he does best, taking a classic high horror concept and executing it with intimate, frightening, this-is-all-too-real surgical precision.
— Chris Lee
Description
---
A riveting novel of suspense and terror from the Bram Stoker award-winning author of The Cabin at the End of the World and A Head Full of Ghosts.
In a matter of weeks, Massachusetts has been overrun by an insidious rabies-like virus that is spread by saliva. But unlike rabies, the disease has a terrifyingly short incubation period of an hour or less. Those infected quickly lose their minds and are driven to bite and infect as many others as they can before they inevitably succumb. Hospitals are inundated with the sick and dying, and hysteria has taken hold. To try to limit its spread, the commonwealth is under quarantine and curfew. But society is breaking down and the government's emergency protocols are faltering.
Dr. Ramola "Rams" Sherman, a soft-spoken pediatrician in her mid-thirties, receives a frantic phone call from Natalie, a friend who is eight months pregnant. Natalie's husband has been killed—viciously attacked by an infected neighbor—and in a failed attempt to save him, Natalie, too, was bitten. Natalie's only chance of survival is to get to a hospital as quickly as possible to receive a rabies vaccine. The clock is ticking for her and for her unborn child.
Natalie's fight for life becomes a desperate odyssey as she and Rams make their way through a hostile landscape filled with dangers beyond their worst nightmares—terrifying, strange, and sometimes deadly challenges that push them to the brink. 
Paul Tremblay once again demonstrates his mastery in this chilling and all-too-plausible novel that will leave readers racing through the pages . . . and shake them to their core.
About the Author
---
Paul Tremblay has won the Bram Stoker, British Fantasy, and Massachusetts Book awards and is the author of Growing Things, The Cabin at the End of the World, Disappearance at Devil's Rock, A Head Full of Ghosts, and the crime novels The Little Sleep and No Sleep Till Wonderland. His essays and short fiction have appeared in the Los Angeles Times, Entertainment Weekly online, and numerous year's-best anthologies. He has a master's degree in mathematics and lives outside Boston with his family.
Praise For…
---
"For the past few years, Paul Tremblay has been setting the standard for modern horror. His genius is that he never forgets the core of a great horror novel resides first in its characters. In Survivor Song, he revitalizes the zombie novel by keeping the focus narrow and intimate: two women, in the space of a few hours, just trying to get across town. The result is heartfelt and terrifying, in a narrative that moves like a bullet train."
— Nathan Ballingrud, author of North American Lake Monsters and Wounds

"[F]resh and surprising. Survivor Song may be one of Tremblay's best – beautifully detailed, viscerally frightening, and deep with emotional resonance."
— Dan Chaon, New York Times bestselling author of Ill Will

"A cinematic scope, scenarios grounded in the real world, and a breathless pace make this thriller one of the must-read titles of the summer. A prescient, insidious horror novel that takes sheer terror to a whole new level."
— Kirkus Reviews (starred review)

"Tremblay has earned worldwide acclaim because he is able to seamlessly combine reality with speculative elements, and his newest may be his most prescient yet. . . . Gorgeously written about terrible things, the relatively short Survivor Song is a good choice for fans of pandemic epics . . . and novels that probe themes of friendship, family, and social commentary amidst chillingly realistic horror."
— Booklist (starred review)

"Survivor Song is a breathlessly compelling read, powerfully frightening and very moving – a nightmare that rings all too terribly true."
— Ramsey Campbell, author of The Wise Friend

"The vividly drawn characters of Ramola and Natalie give the story an uncommon emotional intensity. This is genuinely hard to put down."
— Publishers Weekly (starred review)

"Intensely gripping, shocking, and raw, Survivor Song is a visceral ride through a couple of hours of a deadly disease outbreak. Tremblay pulls no punches, but you wouldn't want him to––his characters are real people, and it's the brutal honesty that helps this terrifying song soar." 
— Tim Lebbon, author of Eden

"Brutality spreads in this novel as swiftly as the wild epidemic Tremblay has invented. A daring, terrifying work packed with horror, but also with larger questions about what meaningful survival might be."
— Idra Novey, author of Those Who Knew

"In Survivor Song, Paul Tremblay offers an unsettling journey across New England as two women, one a doctor, the other her pregnant best friend, try to outrun a rabies-like virus. It's both an achingly lovely exploration of female friendship and a terrifying race against time. I was fighting tears and gasping out loud and couldn't put it down."
— Damien Angelica Walters, author of The Dead Girls Club

"Packed full of emotion and suspense, Survivor Song is so gripping it may as well have been glued to my hands. Paul Tremblay is a master of modern horror."
— Alison Littlewood, author of The Crow Garden