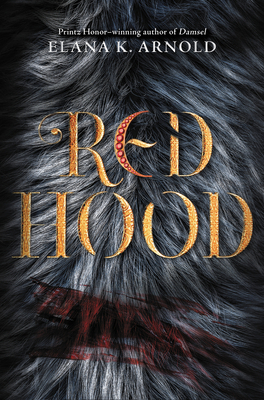 Staff Reviews
---
When a wolf attacks Bisou Martel in the woods, she kills it in self-defense. The next morning, the body of a fellow student is found in the woods, and a dark and dangerous mystery starts to unfold. Based on Little Red Riding Hood with a decidedly feminist twist, this book is undeniably spellbinding. Arnold uses second person for most of the narrative, blurring the lines between fiction and reality. In truth, if you present as female, you have probably dealt with slut shaming, toxic masculinity, and incels; Arnold covers these topics alongside examples of supportive female friendships, loving and consensual (and safe) sex, and frank descriptions of menstruation. The result is a book that feels wholly unique and entirely necessary. 
— Rachel Copeland
This feminist retelling of Little Red Riding Hood dazzles with gorgeous writing! Against the backdrop of a forest filled with shadows, beneath a "moon-full sky," boys who deem themselves entitled to whichever girls they choose transform into wolves to pursue the ones who reject them. During her monthly cycle, Bisou Martel becomes a hunter. She battles the wolves in a blood-soaked fight to the death, not realizing at first that the wolves are the same boys she knows from school. Powerful friendships connect girls to each other, while the author weaves in the jealousies and misperceptions that keep them apart. In the midst of the darkness, Bisou's relationship with her sweet boyfriend, James, plays out, and I appreciated the positive light shone on consensual sex and love. Red Hood is a spectacular follow-up to Damsel, a Printz Honor book and Arnold's feminist take on the traditional fairy tale (complete with a dragon you'll never forget). Neither book should be missed by either teens or adults looking for great conversation starters!
— Jenny Chou
Description
---
A dark, engrossing, blood-drenched tale of the familiar threats to female power—and one girl's journey to regain it. Five starred reviews greeted this powerful story from Elana K. Arnold, author of the Printz Honor winner Damsel.
You are alone in the woods, seen only by the unblinking yellow moon. Your hands are empty. You are nearly naked. And the wolf is angry.
Since her grandmother became her caretaker when she was four years old, Bisou Martel has lived a quiet life in a little house in Seattle. She's kept mostly to herself. She's been good.
But then comes the night of homecoming, when she finds herself running for her life over roots and between trees, a fury of claws and teeth behind her.
A wolf attacks. Bisou fights back. A new moon rises. And with it, questions.
About the blood in Bisou's past, and on her hands as she stumbles home.
About broken boys and vicious wolves.
About girls lost in the woods—frightened, but not alone.
About the Author
---
Elana K. Arnold is the author of critically acclaimed and award-winning young adult novels and children's books, including the Printz Honor winner Damsel and the National Book Award finalist What Girls Are Made Of. Several of her books are Junior Library Guild selections and have appeared on many best book lists, including the Amelia Bloomer Project, a catalog of feminist titles for young readers. Elana teaches in Hamline University's MFA in Writing for Children and Young Adults program and lives in Southern California with her family and menagerie of pets. You can visit her online at www.elanakarnold.com.
Praise For…
---
"In the wake of her Printz Honor–winning Damsel, Arnold blazes a new and equally powerful trail through toxic masculinity. Read, shed your pelt, and be transformed—for blades are being sharpened."
— Booklist (starred review)

"It's unsettling how seamlessly Arnold incorporates dark fantasy elements of beastly wolves and cunning hunters into her all-too-realistic tale. A fantastic novel in the #MeToo era, empowering women to share their stories by reaching out, speaking up, and demanding a change."
— School Library Journal (starred review)

"Arnold uses an intriguing blend of magic realism, lyrical prose, and imagery that evokes intimate physical and emotional aspects of young womanhood. A timely and unabashedly feminist twist on a classic fairy tale."
— Kirkus Reviews

"This will satisfy readers looking for a vengeful overthrow of the patriarchy that recasts the victims as the victors."
— Bulletin of the Center for Children's Books