The End and Other Beginnings: Stories from the Future (Hardcover)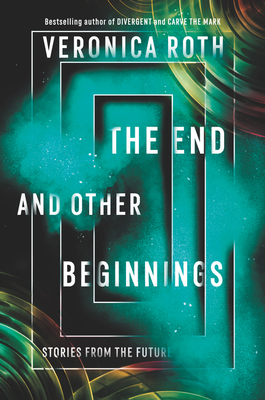 Staff Reviews
---
This is the first I've read of Roth's work, and I'm ready for more! Composed of six short stories, three are in near-future settings built around imaginative new technologies, and three mix humans and aliens, including two stories from Roth's Carve the Mark universe (these can easily be read without prior knowledge of that universe). All six stories impart insightful lessons about how our self-perceptions sharply define how we view the world outside of us and therefore how we think, act, react, and live our lives. Each story features a troubled character whose self-perception is shifted by experiences that usher forth entirely new life trajectories. These are wonderful stories of hope.
— Kay Wosewick
Description
---
Bestselling Divergent and Carve the Mark author Veronica Roth delivers a stunning collection of novella-length stories set in the future, illustrated with startling black-and-white artwork.
No world is like the other. Within this masterful collection, each setting is more strange and wonderful than the last, brimming with new technologies and beings. And yet, for all the advances in these futuristic lands, the people still must confront deeply human problems.
In these six stories, Veronica Roth reaches into the unknown and draws forth something startlingly familiar and profoundly beautiful.
With tales of friendship and revenge, plus two new stories from the Carve the Mark universe, this collection has something for new and old fans alike. Each story begins with a hope for a better end, but always end with a better understanding of the beginning.
With beautifully intricate black-and-white interior illustrations and a uniquely designed package, this is the perfect gift for book lovers.
* Bank Street College of Education Best Children's Book of the Year (2020) *

About the Author
---
Veronica Roth is the #1 New York Times bestselling author of Divergent, Insurgent, Allegiant, Four: A Divergent Collection, and Carve the Mark. Ms. Roth and her husband live in Chicago. You can visit her online at www.veronicarothbooks.com.
Praise For…
---
"Roth's stories are compelling, emotionally evocative, and satisfying. Riveting."
— Kirkus Reviews

"In these stories, Roth invokes romance, action, family, revenge, and loss. They serve as an introduction to Roth's work and a showcase of her versatility, though existing fans will get the most out of these offerings."
— Publishers Weekly

"Each story in Roth's timeless collection—like all great science fiction—is about humanity, how technology can transform our relationships with each other, how it can highlight love and joy and grief, and the delicate web of all that makes us human."
— Marie Lu, New York Times bestselling author of the Warcross Series

"A marvel of genre dexterity. From world to word and character to character, Roth displays her signature hand for world building, and, above all, compassion for people at ends and beginnings."
— Somaiya Daud, author of Mirage

"Roth once again challenges readers' imaginations with her divergent thinking. These delicately crafted slices of future life are filled with characters you truly care about, in situations that bend your mind in all the right ways!"
— Neal Shusterman, author of Challenge Deep and Scythe

"Each story here is its own unforgettable constellation of imagination and aching humanity. They will burn bright in your heart for years to come."
— Alexandra Bracken, author of The Darkest Minds

"Roth is a remarkable storyteller. Her latest offering is yet another testament to her incredible talent—and a definite must-read."
— Courtney Summers, New York Times bestselling author of Sadie 

Praise for The Fates Divide: "The expansive world Roth introduced in the series opener gets even bigger in this sequel, with a bevy of additional characters, deepened secrets, and complex interplanetary politics."
— Booklist Online

"If you enjoyed Carve the Mark and this intricate world that Veronica Roth created, you'll definitely be a fan of The Fates Divide. This sequel...[gives] the reader a closer look while also setting parts of what we thought we knew about the world and the characters aflame."
— Hypable

"The Fates Divide features themes like hope and resilience and is told from four perspectives, as the lives of its two heroes are ruled by their fates spoken by the oracles at their births. Of course,  a little romance gets in the way as well."
— Entertainment Weekly

Praise for Carve the Mark: "Roth skillfully weaves the careful world-building and intricate web of characters that distinguished Divergent, with settings that are rich with color, ripe for a cinematographer. Readers will be anxiously awaiting the sequel."
— Voice of Youth Advocates (VOYA) (starred review)

"Brimming with plot twists and highly likely to please Roth's fans."
— Kirkus Reviews

"Roth offers a richly imagined, often-brutal world of political intrigue and adventure, with a slow-burning romance at its core."
— Booklist

"Roth's worldbuilding is commendable; each nation is distinct, interacting with the current in ways that give insight into her characters' motivations. Roth thoughtfully addresses substantial issues, such as the power of self-determination in the face of fate."
— Publishers Weekly

"This duology offers shades of George Lucas sprawl and influence, Game of Thrones clan intrigue, and a little Romeo & Juliet-style romance."
— USA Today