Three Things I Know Are True (Hardcover)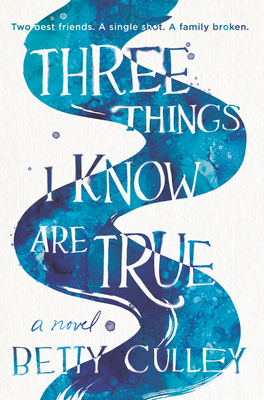 Staff Reviews
---
Liv's older brother, Jonah, accidentally shoots himself while fooling around with a gun, owned by his best friend Clay's dad. Now Jonah needs 24-hour care to stay alive, and their mom is suing Clay's dad. Liv is torn between being loyal to her struggling mom and figuring out how Jonah would want things solved. Should she really turn her back against Clay and his family? And what about what she wants... and needs? 
The characters in this gorgeously written book are incredible. I was immediately struck by how complex every single one of them was. It only takes a few pages to become invested in every single one of their stories. I haven't seen so much character growth in a single character, as I have with Liv, in a long time. I couldn't help but root for her and love her. 
Betty Culley is truly a talent to watch. I was so shocked that this was a debut! The plotting was expertly crafted, the characters were fully developed, and the writing itself was spot on! I cannot wait to read whatever she does next.
— Parker Jensen
I'm always dazzled by writers who can tell a story through verse, with each word fitted like the exact right puzzle piece into a landscape that is both sparse and complex at the same time. At the center of Three Things I know Are True, Liv struggles emotionally while her daredevil brother Jonah struggles physically with the new reality of his traumatic brain injury. Liv's bond with her brother allows her to communicate better than his caretakers or her mother, who cannot even bring herself to say his name. Across the street is Clay's family, owners of the gun Jonah used to shoot himself in the head. But who was the careless one? Jonah for yet another one of his reckless acts or Clay's father for keeping a gun where a 17-year-old could find it? The small Maine town is divided, and a judge will have the final say. As the verdict weighs on both of them, Liv and Clay must find a way to navigate back to the friendship they'd always had and the something more that was just beginning to spark. This thought-provoking book asks readers if forgiveness is possible in a world changed forever by grief and loss, but it's the strength of Liv's cleverly written voice and sharp-edged wit that keep the pages turning.
— From
Jenny's Staff Recommendations
Winter 2019 Kids Indie Next List
---
"Topical, deeply honest, and important, this book has an edge that is painful and sharp but softened with the cadence of verse. The ripple effect of Jonah's foolish actions pulses violently outward and crashes into friends, family, and the larger community. Three things I know are true: this book captures the subject matter seriously and accurately, it starts a necessary dialogue, and it might change some lives."
— Nichole Cousins, Still North Books & Bar, Brooklyn, NY
Description
---
Fans of Jandy Nelson and Marieke Nijkamp will love this deeply moving novel in verse about the aftermath of a gun accident.
Life changes forever for Liv when her older brother, Jonah, accidentally shoots himself with his best friend Clay's father's gun. Now Jonah needs round-the-clock care just to stay alive, and Liv feels like she's the only person who can see that her brother is still there inside his broken body.
With Liv's mom suing Clay's family, there are divisions in the community that Liv knows she's not supposed to cross. But Clay is her friend, too, and she refuses to turn away from him—just like she refuses to give up on Jonah.
This powerful novel is a stunning exploration of tragedy, grief, compassion, and forgiveness.
About the Author
---
Betty Culley lives in central Maine, where the rivers run through the small towns. She's an RN who worked as an obstetrics nurse and as a pediatric home hospice nurse. Three Things I Know Are True is her debut.
Praise For…
---
"Culley's compelling free-verse poems accumulate into a poignant story of a family that was already struggling and then transformed into something unrecognizable. Liv's narration is touching, honest, and perceptive. A story of love and resilience as much as loss and grief."
— Bulletin of the Center for Children's Books (starred review)

"Piercingly realistic. A poignant, humanizing exploration of a sadly timely issue."
— Kirkus Reviews

"An emotional journey that follows a life-altering tragedy. Culley weaves carefully chosen details into a slowly forming tapestry. A tale that is both harrowing in subject matter and elegant in execution."
— ALA Booklist

"A heartbreaking story about a topic that is too prevalent in today's society."
— School Library Journal

"Eloquent narrative verse. Culley deftly captures the community's nuanced responses and the heartbreak both families navigate as this devastating tragedy becomes a political battleground."
— Publishers Weekly