Route 66, 75th Anniversary Edition: The Mother Road (Paperback)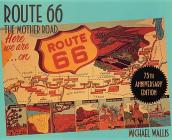 $28.99

Special Order - There is a small chance we can get this title
Description
---
America's Main Street is celebration, Michael Wallis hit the road again, revisiting people and
places that made the Mother Road on American icon, and uncovering new treasures. A love
letter and a tribute, Route 66: The Mother Road takes us on an unforgettable journey through
the secret corners and hidden towns of America's most famous and beloved highway.
About the Author
---
Michael Wallis is an award-winning historian of the Old West and author of Route 66: The Mother Road and several other books, and the co-author of Mankiller: A Chief and Her People. He lives in Tulsa, Oklahoma, and Sante Fe, New Mexico.
Praise For…
---
"Like others before him, from John Steinbeck to Charles Kuralt, Michael Wallis went on the road in search of America. The result is...a colorful paean to a most romantic byway." —The New York Times
"Since the do-gooders abolished public hangings, the only show in town worth watching is the traffic on Highway 66 heading West, and Route 66: The Mother Road is the best book we have to tell us what we are seeing." —Stanley Marsh III, owner of the Cadillac Ranch, Amarillo, Texas
"This story of our nation's most famous highway keeps alive an important part of American history. It's a delight!" —Will Rogers, Jr.
"Route 66 changed the course of my whole life. I will treasure my trip forever, and this book recaptures very vividly every memory." —Bobby Troup, songwriter of "(Get Your Kicks on) Route 66"
"Any of you who love nostalgia will love Route 66: The Mother Road as much as I do." —Tony Hillerman
"A love letter to the road...{Wallis} wraps the history of the route around pictures of it and lets the people who have traveled and lived along the Mother Road tell their stories." —Kelli Pryor, Entertainment Weekly