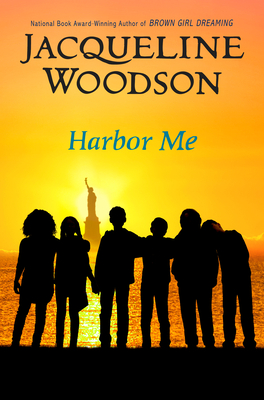 Staff Reviews
---
Woodson was recently named our National Ambassador for Young People's Literature, and she's a perfect choice! I was extremely impressed with her last adult novel, Another Brooklyn, and I'm reminded now of how amazed I was then at the power of her simple, direct, graceful style. Her characters have experiences and conversations that suddenly trigger in me the deep emotions which they feel. In this case a small group of 6th grade "special" students in New York are left by their teacher for a single hour a week in a room by themselves, just to talk about anything they choose.  Gradually, almost unwilling, they become one group, true friends, who trust each other with their stories. The book's narrator, Haley, has been raised by a loving uncle since she was three years old, when her mother died and her father went to prison. Now dad is coming home. Esteban's father has been taken away by immigration authorities. I think you'll quickly admire these six children as much as I did; they'll tell you, straight out, about the beauty of multiple languages, and exactly what America should really look and sound like. This novel was a profound experience for me. Woodson tore my heart out and then gave me most of it back.
— Tim McCarthy
Fall 2018 Kids Indie Next List
---
"Six students with diverse backgrounds end up together in a special-needs 5th/6th grade class in Brooklyn. Their perceptive teacher gives them one hour every Friday afternoon to simply talk with each other unsupervised. The results are deep conversations about their individual experiences and a bond formed from mutual respect and empathy. Through her compelling and big-hearted characters, Woodson makes the conversations around immigration, incarceration, police brutality, and class divide age-appropriate and approachable for young people."
— Naomi Chamblin, Napa Bookmine, Napa, CA
Description
---
Jacqueline Woodson was the 2018-2019 National Ambassador for Young People's Literature

A NEW YORK TIMES BESTSELLER!

Jacqueline Woodson's first middle-grade novel since National Book Award winner Brown Girl Dreaming celebrates the healing that can occur when a group of students share their stories.

It all starts when six kids have to meet for a weekly chat--by themselves, with no adults to listen in. There, in the room they soon dub the ARTT Room (short for "A Room to Talk"), they discover it's safe to talk about what's bothering them--everything from Esteban's father's deportation and Haley's father's incarceration to Amari's fears of racial profiling and Ashton's adjustment to his changing family fortunes. When the six are together, they can express the feelings and fears they have to hide from the rest of the world. And together, they can grow braver and more ready for the rest of their lives.
About the Author
---
Jacqueline Woodson is the 2018-2019 National Ambassador for Young People's Literature. She received the 2018 Astrid Lindgren Memorial Award and 2018 Children's Literature Legacy Award. Her National Book Award- winning memoir, Brown Girl Dreaming, was a New York Times bestseller and received the Coretta Scott King Award, a Newbery Honor, the NAACP Image Award and a Sibert Honor. Her adult book Another Brooklyn was a National Book Award finalist. Author of over two dozen books for young readers, she's won four Newbery Honors, four National Book Awards, and two Coretta Scott King Awards. Her books include Caldecott Honor book Coming On Home Soon; Newbery Honor winners Feathers, Show Way, and After Tupac and D Foster; and Miracle's Boys, which received the LA Times Book Prize and the Coretta Scott King Award. She also received the Margaret A. Edwards Award for lifetime achievement for her contributions to young adult literature and the Jane Addams Children's Book Award. She lives with her family in Brooklyn, New York.
Praise For…
---
* "Woodson celebrates all that is essential and good for humanity—compassion, understanding, security, and freedom—in this touching novel. . . . Woodson's skills as poet and master storyteller shine brightly here as she economically uses language to express emotion and delve into the hearts of her characters. Showing how America's political and social issues affect children on a daily basis, this novel will leave an indelible mark on readers' minds."—Publishers Weekly, starred review

* "Woodson delivers a powerful tale of community and mutual growth. The bond they develop is palpable. . . . The characters ring true as they discuss issues both personal and global. This story, told with exquisite language and clarity of narrative, is both heartbreaking and hopeful. An extraordinary and timely piece of writing."—Kirkus Reviews, starred review

* "The magic is in the writing. Woodson tells stories torn from headlines but personalizes them with poetry and memories, blunting their trauma with understanding and love. Haley's history weaves in and out, drawing readers close. These children become each other's safe harbors and Woodson brilliantly shows readers how to find the connections we all need."—Booklist, starred review

* "Woodson's spare, lyrical, and evocative prose carries the story seamlessly, weaving in themes of justice and family, friendship and courage. This is a timely and beautifully written story that should be on library shelves everywhere."—School Library Journal, starred review

* "In her first middle-grade novel since her 2014 National Book Award winner, Brown Girl Dreaming, National Ambassador for Young People's Literature Jacqueline Woodson deftly alchemizes a sixth-grade classroom into an affecting metaphor for racial, political and socioeconomic challenges—enhanced by the transformative power of storytelling: 'what matter[ed] most is that we were heard.' . . . A powerful love letter to effective teachers, unexpected friendship and the healing magic of hearing, recording and sharing words."—Shelf Awareness, starred review

"Explore[s] deep issues of identity, community, family, change, and forgiveness. The power of remembrance is also an important theme. . . . Will speak to young people's insecurities and fears while recognizing their courage in facing them, and [Woodson's] craft as a weaver of words and imagery is evident on every page. A timely tribute to the resilience of young people and to the power of human connection that often overrides our differences."—Horn Book

"Takes readers on a journey during which young urban teenagers discover the satisfaction of a well-wrought conversation. Woodson's easygoing lyrical voice is the highlight. . . . Each likable young person tells an engaging story, and the others are quick to listen. . . . Many urban readers will hear their story in one of these six's narratives. . . . With alternatingly simple, realistic language and flashes of lyrical romanticism . . . will please teachers trying to coax personal revelations from their students."—Voice of Youth Advocates 

"Leaves readers of all ages asking, 'would I let myself be a harbor for someone who needs it?'"—School Library Connection