Effin' Birds Playing Cards: Two Standard Decks (Cards)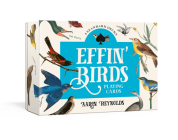 Description
---
These irreverent playing card decks feature fowl-beaked statements from some of the rudest birds on earth, accompanied by Audubon bird illustrations—from the author of Effin' Birds.
Bird identification has a grand and noble tradition—but you won't find that in
Effin' Birds Playing Cards
, which pairs elegant illustrations with dirty sayings, witty insults, and a crapload of poop jokes. Based on the laugh-out-loud success of
Effin' Birds
, this pair of playing card decks includes:
two rude and ridiculous card decks, perfect for playing your favorite card game or just as a pick-me-up
108 cards featuring glorious full-color Audubon portraits and black and white sketches and engravings of birds saying the things that should not be said
a simple and snarky booklet offering the rules for classic card games
Birders, their friends and families, and anyone who relishes irreverent mashup humor will love using these colorful cards for any effin' game.
About the Author
---
Aaron Reynolds is the two-time Webby Award-winning author of Effin' Birds, a comic strip pairing intricate artwork with mundane daily frustrations read by over half a million people every day. His first book, Effin' Birds: A Field Guide to Identification, hit bookstores in 2019 and for seven whole days was the bestselling book by any Canadian author not named Margaret Atwood. Prior to writing Effin' Birds as his full-time gig, Aaron was the creative director for a podcast network, a software trainer for Apple, and a Santa Claus photographer at the worst mall in Mississauga, Ontario, Canada.