The Questions Hip-Hop Trivia (Ultimate Trivia Card Games) (Game)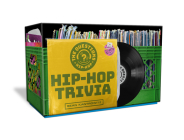 Description
---
Casual listeners and die-hard purists, test your hip-hop knowledge in this 300-card trivia spinoff from the live game show, The Questions—just in time for hip-hop's 50th birthday!

Which Judd Apatow film stars Eminem as himself? Which Broadway Musical was sampled by Jay-Z in his 1998 hit 'Hard Knock Life'? Prove your Hip-Hop trivia mastery in this game written and developed by Grammy-nominated music and film/TV producer Sean Kantrowitz. Hip-hop is the music that has soundtracked contemporary American pop culture like no other. From the stories behind classic songs and albums to the ways in which rappers, DJs, producers, and media figures have interwoven themselves into the films, TV shows, commercials, live events, and headlines of pop culture, The Questions covers it all.
About the Author
---
As the host and primary writer of The Questions, Sean Kantrowitz is a certified hip hop brainiac. Sean occupies both music and media spaces—he is a musician and music producer who has worked with Dr. Dre, Sia, Rhymesayers Entertainment, Murs, Demi Lovato, and Kelly Clarkson. In the world of television, Sean has also produced several shows (many of them music-centric) for CBS and TNT, featuring the likes of Method Man, Snoop Dogg, and Kacey Musgraves. He also served on an unofficial advisory committee to Ahmir "Questlove" Thompson for The Tonight Show Starring Jimmy Fallon, suggesting the (frequently pun/music nerd-reference-heavy) personalized walk-on music for The Roots to play for dozens of the iconic program's guests.