Stories from Bug Garden (Hardcover)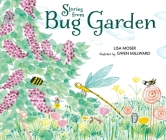 Staff Reviews
---
In this memorable book, an old and forgotten garden becomes home for many insects and tiny garden friends.  Told in short verses, each poem highlights a different character.  From ladybug, who loves to behave in an un-lady-like way, to a bee, who wants to watch the clouds and 'Just be,' humor prevails throughout the book.  Also, the conversational style makes this a great book to read out loud. Delicate detailed color illustrations are a perfect fit for the text. This wonderful celebration of being unique and finding a home will bring joy to readers of all ages.
— Barbara Katz
Description
---
Come peer between blades of grass at the secret lives of a garden's tiniest inhabitants, revealed in lyrical vignettes and charming illustrations.

What may appear to be an abandoned garden is actually home to an unusual array of insects. Meet a ladybug who prefers making mud angels to acting like a lady, a roly-poly bug who loves to roll ("wa-hoo!"), a cricket who dreams of grand adventures, and a whole neighborhood of bugs gazing up at a fireworks show of flowers bursting into bloom. These inviting vignettes are sure to have readers seeing bugs in a whole new light.
About the Author
---
Lisa Moser is the author of the early readers The Monster in the Backpack, Squirrel's World, and Squirrel's Fun Day as well as many picture books, including Kisses on the Wind. She lives in Wisconsin.

Gwen Millward is the illustrator of numerous books for children, including The Bog Baby by Jeanne Willis, How Do You Hug a Porcupine? by Laurie Isop, and the Charmseekers series by Georgie Adams. She is also the author-illustrator of the picture book Bear and Bird. Gwen Millward lives in Wales.
Praise For…
---
Compactly told in short lines, these pieces are part beginning-reader stories and part poetry. In spirit they remind me of Arnold Lobel's wonderful Frog and Toad books...Millward's watercolor, ink and pencil drawings highlight the stories' whimsy; her google-eyed characters and obsessive, scribbly vegetation add up to a rousing expression of cheer.
—The New York Times Book Review

The scribbly pen-and-pencil illustrations, finished with watercolor, reveal amusing detail...With plentiful dialogue, these short scenes will be fun to read aloud. Whimsical and delightful, a celebration of imagination.
—Kirkus Reviews (starred review)

Millward's naïve-styled, softly colored ink-and-watercolor illustrations lend quiet humor to the stories, giving the diminutive characters expressive eyes and sweet smiles. This pleasurable read will win over preschoolers and parents alike as it offers gentle reflections on persistence, pleasure, and perspective.
—Publishers Weekly

These funny and friendly tales will have readers looking at bugs in a new way. The colorful and charming ink, watercolor, and pencil illustrations cleverly depict the backyard denizens. A unique look at a garden's smallest residents that's sure to please readers.
—School Library Journal

Diverse insects discover a new dwelling in this delightful collection of interconnected vignettes featuring free verse and charming illustrations...From lively to lyrical, in both the stories and art, there's plenty to enjoy, amuse, and contemplate.
—Booklist Online

From far away, a flower garden may look still, unpopulated. But get a lot closer and there will be bugs...In the spirit of The Wind in the Willows, this whimsical collection of sometimes fable-like storylets offers a cozy microcosm of creatures. Readers will be glad to see the wheelbarrow and gate they glimpsed from a distance among the garden's close-up wonders... a home for the bugs now, no longer abandoned.
—Shelf Awareness for Readers

A lively treat awaits young readers in Stories from Bug Garden, where life is busy buzzing amid an old, forgotten place "with a tumbledown wall and a one-wheeled barrow."...Very young readers will enjoy exploring this out-of-sight world over and over again.
—BookPage

The descriptive language and colorful, fun illustrations make this an enjoyable read. Nature is presented through the drawings and short prose...Teachers and parents will want this book for a read-aloud selection, while public and school librarians can use it to spark discussions related to insects, gardens, and nature.
—School Library Connection