Alan's Big, Scary Teeth (Hardcover)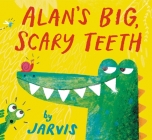 $17.99
Usually Ships within 2 weeks.
Staff Reviews
---
For fun, Alan the alligator snaps his huge scary teeth to scare the other jungle animals. "I LOVE BEING SCARY" said Alan! However, no one knows Alan's huge secret---he has FALSE TEETH! When they are missing, Alan's attempts at being scary are laughable. With lots of conversational text, this hilarious book MUST be read out loud! Eventually, all the jungle animals come up with perfect rules so Alan can be scary in a different way. The bright colorful illustrations contain many funny details and expressions on the animals' faces. Sure to be a hit with kids and adults, Alan's story will be read over and over.
— Barbara Katz
Description
---
A goofy and lonely denizen of the jungle has just one talent — scaring other creatures with his big, scary teeth! What would he do without them?

Deep in the jungle lurks Alan the alligator, descended from a long line of very scary alligators. He prepares carefully — polishing his scales, brushing each of his big, scary teeth, and practicing his frightening faces — then sneaks into the jungle to terrorize the jungle critters. ("I'm big, scary Alan! Fear my razor-sharp teeth!") But after a long day of scaring, Alan likes nothing better than to enjoy the crossword, run a warm mud bath, and take out his teeth, which nobody else knows are false. Until one morning, when Alan wakes up and finds that his teeth are gone! Without those teeth, he's just not very scary, and scaring is the only thing he knows how to do. Or is it? Witty, charming, and playful storytelling will have preschoolers cheering for Alan as he discovers a new way to fit in.
About the Author
---
Jarvis is an illustrator and animator who has worked as both a record jacket designer and an animation director. This is the first picture book he has both written and illustrated. He lives in Manchester, England.
Praise For…
---
The witty Jarvis ("Lazy Dave") makes all the right moves, drawing Alan's jungle world with his usual loose, jagged charm.
—The New York Times Book Review

Jarvis (Lazy Dave) strikes a brisk, matter-of-fact tone that's spot-on for his overconfident, inconsiderate hero, and he ties up the loose ends of the story with a clever best-of-both-worlds twist. His pictures are even better...They're gorgeous—and thanks to his accomplished cartooning, they're funny, too.
—Publishers Weekly (starred review)

A strength of the illustrations lies in the ability to convey emotion...
—Kirkus Reviews

This strong debut picture book will leave young listeners and librarians alike hungry for the author's next offering. A perfect choice for storytime.
—School Library Journal

This book invites interaction with the story and plenty of action and noise as Alan makes his way through the jungle and on to a new identity. There is a nice message about being a friend as the story draws to a close. This is a good title for primary collections and collections that need strong, artistic storytelling on their shelves.
—School Library Connection

Digitally colored illustrations in pencil, chalk, and paint portray Alan as more of a goofball than a menace, while the jungle animals blend into the background—a good precaution with an alligator neighbor. The reformation of a bully is a familiar story, but Alan's version is nicely told, and the eventual outcome is especially enjoyable.
—Booklist Online

A hilarious, cautionary tale with a wonderful conclusion on kindness, this imaginative story will have kids in stitches.
—Books to Borrow...Books to Buy (column from Kendal A. Rautzhan)