365 Things to Love About Being a Mom 2018 Day-to-Day Calendar (Calendar)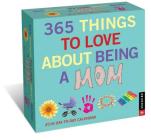 Description
---
365 Things to Love About Being a Mom 2018 Day-to-Day Calendar offers up a daily reason to celebrate motherhood.

From pocketbooks overflowing with fruit snacks and wet wipes and Legos decorating every inch of the living room rug to the joy of hearing your child tell you they love you, 365 Things to Love about Being a Mom 2018 offers a daily reason to appreciate motherhood. Filled with quotations, advice, trivia, famous moms, song lyrics, recipes, and more, this daily calendar is the perfect way to celebrate being a mom!
About the Author
---
Universe Publishing, a division of Rizzoli International Publications, publishes pop-culture, humor, beauty, sports, performing arts, and children's books and calendars.