Flavor of Wisconsin for Kids: A Feast of History, with Stories and Recipes Celebrating the Land and People of Our State (Hardcover)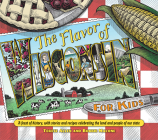 Description
---
What are some food favorites in Wisconsin, and why are they special to us? How have our landscape and the people who have inhabited it contributed to our food heritage? This unique blend of history book and cookbook gives kids a real taste for hands-on history by showing them how to create and sample foods that link us to the resources found in our state and the heritage of those who produce them.
Designed for kids and adults to use together, "The Flavor of Wisconsin for Kids" draws upon the same source material that makes "The Flavor of Wisconsin" by Harva Hachten and Terese Allen a fascinating and authoritative document of the history and traditions of food in our state, and presents it in a colorful, kid-friendly format that's both instructional and fun. Mindful of the importance of teaching kids about "where" the foods they eat come from, each chapter examines a different food source forests; waters; vegetable, meat, and dairy farms; gardens; and communities. The authors explore our state's foodways, from their origins to how they have changed over the years, and then offer a selection of related recipes. The recipes are written for modern kitchens but use many traditional ingredients and techniques. Level of difficulty is clearly noted, as well as whether a recipe requires a heat source to prepare.
About the Author
---
Terese Allen has written many books and articles about Wisconsin s food traditions and culinary culture, including "The Flavor of Wisconsin, "the 2012 "Wisconsin Local Foods Journal, "and "Cafe Wisconsin Cookbook. "She is food editor for Organic Valley and a columnist for "Edible Madison" magazine. Terese serves as president of the Culinary History Enthusiasts of Wisconsin (CHEW) and is the former chair of the REAP Food Group, a food and sustainability organization in southern Wisconsin.As director of the Office of School Services at the Wisconsin Historical Society, Bobbie Malone wrote and edited many books for classrooms, including the fourth grade textbook, "Wisconsin: Our State, Our Story"; the New Badger History series; and the Badger Biographies series. Now she consults with school districts and museums and is busily working on a biographyof author-illustrator Lois Lenski."