Panda Pat and the Rat Called Cat (Hardcover)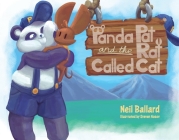 $28.99
Usually Ships within 2 weeks.
Description
---
What would you do if the tricks you played caused you to lose all your friends?
The rat called Cat and his friend Panda Pat travel from Panda Peak to the big city to get cheese but end up in the middle of a road race. Cat is determined to win the race, but in the whirlwind of competition, things go awry.
In this story of redemption, Cat learns how his words have affected others and how to treat others with humility and respect.

Lifelong educator Neil Ballard has created this endearing story that captures hearts and teaches a valuable lesson. A manuscript of this short story was kept in Neil's desk for over 25 years. His hope was that someday he would make his first children's book from this story. Upon his second retirement from teaching and with the encouragement of his children, he did just that.

Artwork by Steven Nosov brings the story to life with clever, vivid illustrations that can be appreciated by children and parents alike.
About the Author
---
Neil Ballard is a retired teacher from Idaho. He draws inspiration for his stories from his experience in the classroom. His background includes a wide variety of experiences from his early days as a football coach until his last years teaching at a performing art school. He has a B.A. in Education from University of Kentucky and M.Ed. from Middle Tennessee State University.Steven Nosov was born and raised in the Pacific Northwest. Since Steven was old enough to hold a pencil, he has been drawing and putting his imagination to paper. He's fulfilled his life-long dream of being a professional illustrator. Steven studies and draws inspiration from cartoons and video game design to bring his illustrations a unique and playful style. "Panda Pat and the Rat Called Cat" is the first children's book he has illustrated.