The Empress of Salt and Fortune (The Singing Hills Cycle #1) (Paperback)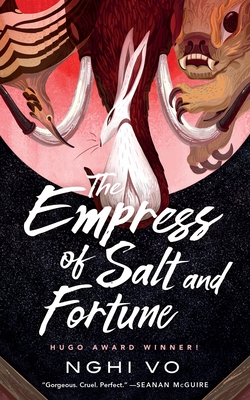 Other Books in Series
This is book number 1 in the The Singing Hills Cycle series.
Staff Reviews
---
Cleric Chih arrives at Lake Scarlet expecting to find Thriving Fortune, the house by the lake abandoned; they encounter an old woman who invites them in to observe a beautiful phenomenon. Invited to stay, Chih learns that the old woman is Rabbit, a handmaiden who befriended the exiled Empress In-Yo. As Chih records the artifacts they find at the house, Rabbit begins to reveal the truth behind the history of Empress In-Yo and the life they lead at Thriving Fortune. The Empress of Salt and Fortune is a delicate feminist fantasy that took my breath away! Definitely a book I will want to reread just because I enjoyed it so much.
— Jen Steele
Description
---
"Dangerous, subtle, unexpected and familiar, angry and ferocious and hopeful... The Empress of Salt and Fortune is a remarkable accomplishment of storytelling."—NPR

A Paste Most Anticipated Novel of 2020
A Library Journal Debut of the Month
A Buzzfeed Must-Read Fantasy Novel of Spring 2020

With the heart of an Atwood tale and the visuals of a classic Asian period drama, Nghi Vo's The Empress of Salt and Fortune is a tightly and lushly written narrative about empire, storytelling, and the anger of women.

A young royal from the far north, is sent south for a political marriage in an empire reminiscent of imperial China. Her brothers are dead, her armies and their war mammoths long defeated and caged behind their borders. Alone and sometimes reviled, she must choose her allies carefully.

Rabbit, a handmaiden, sold by her parents to the palace for the lack of five baskets of dye, befriends the emperor's lonely new wife and gets more than she bargained for.

At once feminist high fantasy and an indictment of monarchy, this evocative debut follows the rise of the empress In-yo, who has few resources and fewer friends. She's a northern daughter in a mage-made summer exile, but she will bend history to her will and bring down her enemies, piece by piece.

Praise for The Empress of Salt and Fortune

"An elegant gut-punch, a puzzle box that unwinds itself in its own way and in its own time. I cannot recommend it highly enough. Gorgeous. Cruel. Perfect. I didn't know I needed to read this until I did."—Seanan McGuire

"A tale of rebellion and fealty that feels both classic and fresh, The Empress of Salt and Fortune is elegantly told, strongly felt, and brimming with rich detail. An epic in miniature, beautifully realised."—Zen Cho
About the Author
---
Nghi Vo was born in central Illinois, and she retains a healthy respect of and love for corn mazes, scarecrows, and fifty-year floods. These days, she lives on the shores of Lake Michigan, which is less a lake than an inland sea that she is sure is just biding its time. Her short fiction has appeared in Strange Horizons, Uncanny Magazine, PodCastle, Lightspeed, and Fireside. Her short story, "Neither Witch nor Fairy" made the 2014 Tiptree Award Honor List. Nghi mostly writes about food, death, and family, but sometimes detours into blood, love, and rhetoric. She believes in the ritual of lipstick, the power of stories, and the right to change your mind.
Praise For…
---
"Dangerous, subtle, unexpected and familiar, angry and ferocious and hopeful... The Empress of Salt and Fortune is a remarkable accomplishment of storytelling."—NPR

"A stunning feminist fantasy. . . . The subtlety and nuance of Vo's evocative storytelling lend the novella an epic, timeless feel. Equal parts love and rage, this masterfully told story is sure to impress."—Publishers Weekly, starred review

"Vo's debut has it all: from sapphic love to cruel betrayals; from political intrigue to lakes that glow red to ghosts that continue to walk old paths. . . . The Empress of Salt and Fortune will appeal to all fans of epic fantasy, and readers will be excited to read whatever Vo comes up with next."—Booklist, starred review

"This fantasy novella reminded me more of the anthropological leanings of Ursula K. Le Guin's work set in an imperial Chinese fantasy world. . . . Uncovers a nuanced history of how the disenfranchised shape history, and can come to rule it, though at great cost."—Buzzfeed

"Rich details and emotional prose captures readers from the first page of this imaginative and powerful novella. Spun through reflections of the past, in archived objects of love and hate, the tale of Rabbit and In-yo lights up the dark history of monarchy and turns it into a delightful feminist fantasy."—Library Journal

"Nghi Vo's gorgeous debut novella...follows two women defying traditional gender roles with striking results."—Paste

"A masterpiece of understatement and implication. This is the little black dress of books: it gives the impression of effortlessness while being quietly meticulous in every stitch. And it's for everyone."—Nerd Daily

"An elegant gut-punch, a puzzle box that unwinds itself in its own way and in its own time. I cannot recommend it highly enough. Gorgeous. Cruel. Perfect. I didn't know I needed to read this until I did."—Seanan McGuire

"A quiet, wrenching tale of resistance, resilience, and court intrigue."—R. F. Kuang

"A tale of rebellion and fealty that feels both classic and fresh, The Empress of Salt and Fortune is elegantly told, strongly felt, and brimming with rich detail. An epic in miniature, beautifully realised."—Zen Cho

"At once epic and intimate, this story of revenge, power and the weight of history is a small, masterful jewel."—Aliette de Bodard

"A glorious, beautifully-written tale that is both tragic and triumphant, unfolding a secret history through the ordinary artifacts of everyday life."—Kate Elliott