Shotgun Lovesongs: A Novel (CD-Audio)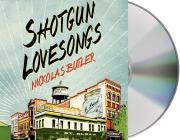 Staff Reviews
---
"The push and pull of a small Midwestern town is the driving force of this wistful novel about four childhood friends who are bound together, despite their desire to strike out on their own. Kip has left to earn his fortune in Chicago, Ronny to be a rodeo cowboy in Wyoming, Beth to find herself in Minneapolis, and Lee to New York to become a rock legend. Only Henry stays behind, taking over the family farm. But each character is called back to Little Wing, Wisconsin, some to confront destiny and others to tackle demons. There's a love triangle at the center of the story for sure, but at its heart, Shotgun Lovesongs is a gentle but still barroom friendly classic buddy novel."
— Daniel Goldin
"I plowed through this book in one day, and I'm not a fast reader. It's not that it's a short book, although at 320 pages, it isn't exactly a doorstop either. And it's not that I couldn't put it down, I didn't read it in one sitting, but I kept coming back to it. What it is: unsparing, no-nonsense prose, redolent of the voices of Wisconsin; a study of the vicissitudes of friendship and love, betrayal and redemption, and the magnetic draw of home; a paean to the lives of the common (and not so common) folk of our state."
— Conrad Silverberg
Description
---
Welcome to Little Wing.
It's a place like hundreds of others, nothing special, really. But for four friends—all born and raised in this small Wisconsin town—it is home. And now they are men, coming into their own, or struggling to do so.
One of them never left, still working the family farm that has been tilled for generations. But others felt the need to move on, with varying degrees of success. One trades commodities, another took to the rodeo circuit, and one of them even hit it big as a rock star. And then there's Beth, a woman who has meant something special in each of their lives.
Now all four are brought together for a wedding. Little Wing seems even smaller than before. While lifelong bonds are still strong, there are stresses—between the friends, between husbands and wives. There will be heartbreak, but there will also be hope, healing, even heroism as these memorable people learn the true meaning of adult friendship and love.
Seldom has the American heartland been so richly and accurately portrayed. Though the town may have changed, the one thing that hasn't is the beauty of the Wisconsin farmland, the lure of which, in Nickolas Butler's hands, emerges as a vibrant character in the story. Shotgun Lovesongs is that rare work of fiction that evokes a specific time and place yet movingly describes the universal human condition. It is, in short, a truly remarkable audiobook—a novel that once listened to will never be forgotten.
About the Author
---
NICKOLAS BUTLER was born in Allentown, Pennsylvania, and raised in Eau Claire, Wisconsin.  His writings have appeared in:
Narrative Magazine
,
Ploughshares
,
The Kenyon Review Online
,
The Progressive
,
The Christian Science Monitor
, and elsewhere.  A graduate of the University of Wisconsin and the Iowa Writer's Workshop, he currently lives in Wisconsin with his wife and their two children.
Shotgun Lovesongs
is his first novel.
Ari Fliakos
is an actor with experience in television, radio, film, theater, and voiceovers. His narration of Seth Patrick's
Reviver
won an Audie for paranormal fiction. He has narrated
Black Site
and
Tier One Wild
by Dalton Fury, as well as
Gangster Squad,
The Inquisitor,
and
Shotgun Lovesongs
. On screen, he is best-known for his roles in
Law & Order
,
Pills
, and
Company K
.
An actor of both stage and screen, SCOTT SHEPHERD is known for roles in the recent films And So it Goes, Side Effects, and Brief Reunion. He belongs to two major theater groups, The Wooster Group and Elevator Repair Service through which he performs both locally and abroad. Shepherd is widely known for his natural memorization skills after he recited the entirety of Fitzgerald's The Great Gatsby for a Public Theater production of the show Gatz.
Scott Sowers has narrated numerous audiobooks, including books by Douglas Preston, Robert Ludlum, John Hart, and Nicholas Sparks. He was named the 2008 Best Voice in Mystery & Suspense by AudioFile magazine. AudioFile also awarded Sowers an Earphones Award for his narration of John Hart's Down River, writing, "[providing] a bewitching rhythm and pace, expertly capturing and elevating this story of redemption. The combination of Hart and Sowers provides the perfect marriage of prose and voice. Together they enable the book to transcend genre fiction and become something exceptional."
 Sowers is also an accomplished actor of both stage and screen. His theater credits include roles in Inherit the Wind, A Streetcar Named Desire, Bus Stop, and A Few Good Men. His many television credits include guest roles on Law & Order, The Black Donnellys, Six Degrees, All My Children, and the Hallmark Channel's Season for Miracles. He has also appeared in the films Trust the Man, The Village and The Ten.
Praise For…
---
"Grabs the listener by the ears and doesn't let go… there's no question that all the narrators connect with the characters' emotional journeys." —AudioFile Magazine
"Using different narrators for the various characters is a brilliant move. Each is polished and well worth hearing." —Christian Science Monitor