For Colored Girls Who Have Considered Politics (CD-Audio)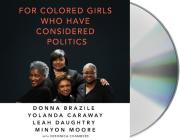 $39.99
Email or call for price
Description
---
The four most powerful African American women in politics share the story of their friendship and how it has changed politics in America.

The lives of black women in American politics are remarkably absent from the shelves of bookstores and libraries. For Colored Girls Who Have Considered Politics is a sweeping view of American history from the vantage points of four women who have lived and worked behind the scenes in politics for over thirty years—Donna Brazile, Yolanda Caraway, Leah Daughtry, and Minyon Moore—a group of women who call themselves The Colored Girls. Like many people who have spent their careers in public service, they view their lives in four-year waves where presidential campaigns and elections have been common threads. For most of the Colored Girls, their story starts with Jesse Jackson's first campaign for president. From there, they went on to work on the presidential campaigns of Walter Mondale, Michael Dukakis, Bill Clinton, Al Gore, Barack Obama and Hillary Rodham Clinton.

Over the years, they've filled many roles: in the corporate world, on campaigns, in unions, in churches, in their own businesses and in the White House. Through all of this, they've worked with those who have shaped our country's history—US Presidents such as Bill Clinton and Barack Obama, well-known political figures such as Terry McAuliffe and Howard Dean, and legendary activists and historical figures such as Jesse Jackson, Coretta Scott King, and Betty Shabazz.

For Colored Girls Who Have Considered Politics is filled with personal stories that bring to life heroic figures we all know and introduce listeners to some of those who've worked behind the scenes but are still hidden. Whatever their perch, the Colored Girls are always focused on the larger goal of "hurrying history" so that every American — regardless of race, gender or religious background — can have a seat at the table. This audiobook tells their story.

Praise for For Colored Girls Who Have Considered Politics:

"For Colored Girls is an interesting, informative, inspiring, motivating and just plain delightful read. These are four colored girls who weren't born on third base in privilege...They considered careers in business, health care, law and civil rights, but found their calling and fulfillment in politics. Their choices benefited all of us."—Reverend Jesse L. Jackson, Sr., Founder and President, Rainbow PUSH Coalition

"A compelling memoir of cultivated dreams, For Colored Girls... provides insight into and illumination of the undeniable call to service and the ways in which these four navigated a sometimes perilous and truly circuitous journey."—Angela Bassett
About the Author
---
Donna Brazile, a veteran Democratic political strategist, is an adjunct professor at Georgetown University, author, television political commentator and former Interim Chair of the Democratic Party. She is the author of Cooking with Grease and the New York Times Bestseller Hacks.

Yolanda Caraway is the founder of The Caraway Group, Inc., a nationally recognized public relations and public affairs agency. She has played a major role in shaping the goals and objectives of the National Democratic Party.

The Reverend Leah Daughtry is a nationally recognized preacher, speaker, organizer, leader, strategist and CEO of the 2008 and 2016 Democratic National Conventions.

Minyon Moore is a partner at the Dewey Square Group, was formerly CEO of the Democratic National Committee, and served as Assistant to the President of the United States and director of the White House Office of Public Liaison, and director of White House political affairs under President Bill Clinton.

VERONICA CHAMBERS is the editor of the New York Times archival storytelling team, a new initiative devoted to publishing articles based on photographs recently rediscovered as the paper digitizes millions of images. She is the editor of The Meaning of Michelle, celebrating the former first lady, which was a Los Angeles Times bestseller and a Time Magazine Top Nonfiction of the year. Veronica has written several books as well, including Mama's Girl, a critically acclaimed memoir, and she co-wrote Yes, Chef with Marcus Samuelsson and 32 Yolks with Eric Ripert.

Robin Miles began her audiobook narration in 1994.  She's read over 130 titles covering many different genres and has won multiple Earphones awards.  Her many audiobook credits include Augusten Burroughs's Sellevision, Edwidge Danticat's Brother I'm Dying, and Lalita Tademy's Cane River.  Her film and television credits include The Last Days of Disco, Primary Colors, Law & Order: Criminal Intent, Law & Order, New York Undercover, National Geographic's Tales from the Wild, All My Children, and One Life to Live.  She regularly gives seminars to members of SAG and AFTRA actors' unions, and in 2005 she started Narration Arts Workshop in New York City, offering audiobook recording classes and coaching.  She holds a B.A. in Theater Studies from Yale University, an MFA in acting from the Yale School of Drama, and a certificate from the British American Drama Academy in England.