Sleeping Beauties: A Novel (Hardcover)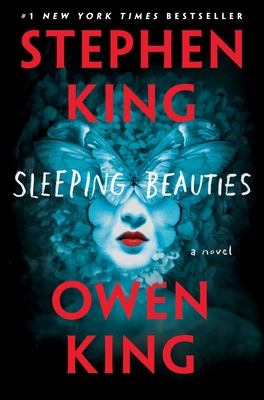 $32.50
Usually Ships in 1-5 Days
Staff Reviews
---
Stephen King and Owen King will be in conversation at the Riverside Theater on Saturday, September 30,  8 pm for their new book, "Sleeping Beauties." Tickets go on sale to the general public on Friday, June 16, 12 Noon, with a special presale June 14. Details for the presale on Boswell or Pabst Theater Group newsletter. Please note, this event will sell out very, very quickly. And also please note, there is not autographing session for this event and we cannot take signing requests.
Ticket link:
http://pabsttheater.org/show/stephenkingowenking2017
— Boswell Book Company
Description
---
#1 NEW YORK TIMES BESTSELLER

In this spectacular father/son collaboration, Stephen King and Owen King tell the highest of high-stakes stories: what might happen if women disappeared from the world of men?

In a future so real and near it might be now, something happens when women go to sleep: they become shrouded in a cocoon-like gauze. If they are awakened, if the gauze wrapping their bodies is disturbed or violated, the women become feral and spectacularly violent. And while they sleep they go to another place, a better place, where harmony prevails and conflict is rare.

One woman, the mysterious "Eve Black," is immune to the blessing or curse of the sleeping disease. Is Eve a medical anomaly to be studied? Or is she a demon who must be slain? Abandoned, left to their increasingly primal urges, the men divide into warring factions, some wanting to kill Eve, some to save her. Others exploit the chaos to wreak their own vengeance on new enemies. All turn to violence in a suddenly all-male world.

Set in a small Appalachian town whose primary employer is a women's prison, Sleeping Beauties is a wildly provocative, gloriously dramatic father-son collaboration that feels particularly urgent and relevant today.
About the Author
---
Stephen King is the author of more than sixty books, all of them worldwide bestsellers. His recent work includes If It Bleeds, The Institute, Elevation, The Outsider, Sleeping Beauties (cowritten with his son Owen King), and the Bill Hodges trilogy: End of Watch, Finders Keepers, and Mr. Mercedes (an Edgar Award winner for Best Novel and an AT&T Audience Network original television series). His novel 11/22/63 was named a top ten book of 2011 by The New York Times Book Review and won the Los Angeles Times Book Prize for Mystery/Thriller. His epic works The Dark Tower, It, Pet Sematary, and Doctor Sleep are the basis for major motion pictures, with It now the highest grossing horror film of all time. He is the recipient of the 2018 PEN America Literary Service Award, the 2014 National Medal of Arts, and the 2003 National Book Foundation Medal for Distinguished Contribution to American Letters. He lives in Bangor, Maine, with his wife, novelist Tabitha King.

Owen King is the author of the novel Double Feature and We're All in This Together: A Novella and Stories. He is the coauthor of Intro to Alien Invasion and the coeditor of Who Can Save Us Now? Brand-New Superheroes and Their Amazing (Short) Stories. He lives in Upstate New York with his wife, the writer Kelly Braffet, and their daughter.
Praise For…
---
"Stephen King and son team up for a beauty of a horror tale [that is] epic, ambitious, heartbreaking and, when it comes to its central horrors, all too timely. Sleeping Beauties melds the elder King's talent for exploring the darker sides of human nature when people are thrust into terrifying situations with his youngest son's gift for juggling multiple genres and complex characters. The final chapters bring all their skills together in a fast-paced, explosive finale and emotional aftermath. A thought-provoking work that examines a litany of modern-day issues."-- USA Today

"It's a violent, dystopian thrill ride that will leave you horrified– and hooked."--People

"Entertaining. . . Sleeping Beauties is a bulging, colourful epic; a super-sized happy meal, liberally salted with supporting characters and garnished with splashes of arterial ketchup. This epic feels so vital and fresh."-- The Guardian

"King fans who enjoy his blunt language and vivid gore will find lots to like."-- Associated Press

"A fast-paced thriller [that is] ambitious and sympathetic, Sleeping Beauties is both a love letter to women everywhere and an incisive look at what drives men to violence, neatly wrapped in enough fantasy elements to soften the more caustic edges of the commentary. From "Carrie" to "Dolores Claiborne" to "Lisey's Story" and beyond, Stephen King's compassion for women is an identifying characteristic of much of his work, and "Sleeping Beauties" continues the trend. The Kings have created deeply textured women to populate their book."-- Pittsburgh Post-Gazette

"Sleeping Beauties is an ambitious work that combines some age-old Stephen King themes with a distinctly sci-fi premise. Sleeping Beauties is no "take your kid to work" project on Stephen King's behalf. Owen King is an accomplished author in his own right, and their collaboration reflects positively on both. No matter which King was tapping the keys, readers will enjoy a riveting novel with plenty of characters to root for, and to root against … and, in another King trademark, to root both for and against."-- Bangor Daily News

"This delicious first collaboration between Stephen King and his son Owen is a horror-tinged realistic fantasy that imagines what could happen if most of the women of the world fall asleep, leaving men on their own. The authors' writing is seamless and naturally flowing. Once the action begins, [SLEEPING BEAUTIES] barrels along like a freight train."-- Publishers Weekly

"Another horror blockbuster, Mercedes and all, from maestro King and his heir apparent…In a kind of untold Greek tragedy meets Deliverance meets—well, bits of Mr. Mercedes and The Shawshank Redemption, perhaps—King and King, father and son, take their time putting all the pieces into play: brutish men, resourceful women who've had quite enough, alcohol, and always a subtle sociological subtext, in this case of rural poverty and dreams sure to be dashed…A blood-splattered pleasure."-- Kirkus Reviews (starred review)

"Following the renewed interest in Margaret Atwood's The Handmaid's Tale and an increasing climate of wolf-whistle politics, this examination of gender stereotypes, systems of oppression, and pervasive misogyny within American culture feels especially timely…The large cast of characters allows for a multitude of narrative perspectives—from both the affected women and the men they've left behind. Violent, subversive, and compulsively readable. The true horror of this father-son-penned novel derives more from its unflinchingly realistic depiction of hatred and violence against women than from the supernatural elements."-- Library Journal

"The novel provides enough action, thrills and humor to keep readers burning the midnight oil....There's comfort to be found in tales such as this... Sleeping Beauties is a well-tooled horror thriller, a worthy venture from a productive family business." —San Francisco Chronicle
Coverage from NPR