Bad Feminist Lib/E: Essays (Compact Disc)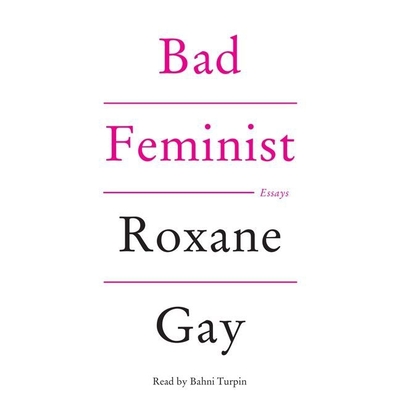 Staff Reviews
---
"I picked up Roxane Gay's fantastic novel, An Untamed State, on a whim a few months ago. Having just finished her new book of essays, I have now progressed to being a full-fledged fan, and will yammer about her to anyone who will stand still long enough. Her funny and discerning collection of essays runs the gamut from playing Scrabble competitively, to watching Girls, to discussing current issues like abortion and women's reproductive rights. She has the uncanny ability to state things in both an articulate and relatable way that will cause the reader to shake her head and say, 'Yes, that is exactly how I feel too.' I look forward to reading whatever this talented author produces in the future."
— Sharon Nagel
"Don't be tricked by this title into thinking this is some sort of a confessional. Gay may acknowledge the flawed nature of her feminism, but really, it's more like she's championing this, and surely acceptance of one's shortcomings can only make a movement more inclusive. To my thinking, Gay is at her best when she's telling stories, like her journey through the world of competitive Scrabble. But whether she is talking about The Hunger Games (a fan) or Twelve Years a Slave (might be burning out on slave narratives), Gay can argue passionately about just about anything. Did I always agree? No, but I always found the arguments eloquent and persuasive."
— Daniel Goldin
August 2014 Indie Next List
---
"Roxane Gay is one of the most important and refreshing voices of this century, and nowhere is this more apparent than in her timely, urgent, and thoughtful essays. She's already proven herself to be a top-notch novelist; with this collection she takes a seat on the same literary stage as Joan Didion, Susan Sontag, Leslie Jamison, Montaigne, Geoff Dyer, and David Foster Wallace. Her indelible essays will have a tremendous impact on generations of writers."
— Michele Filgate, Community Bookstore, Brooklyn, NY
Description
---
From the author of Hunger: A Memoir of (My) Body, the New York Times Bestseller and Best Book of the Year at NPR, the Boston Globe, Newsweek, and many more
A collection of essays spanning politics, criticism, and feminism from one of the most-watched young cultural observers of her generation, Roxane Gay.
"Pink is my favorite color. I used to say my favorite color was black to be cool, but it is pink--all shades of pink. If I have an accessory, it is probably pink. I read Vogue, and I'm not doing it ironically, though it might seem that way. I once live-tweeted the September issue."
In these funny and insightful essays, Roxane Gay takes us through the journey of her evolution as a woman (Sweet Valley High) of color (The Help) while also taking readers on a ride through culture of the last few years (Girls, Django in Chains) and commenting on the state of feminism today (abortion, Chris Brown). The portrait that emerges is not only one of an incredibly insightful woman continually growing to understand herself and our society, but also one of our culture.
Bad Feminist is a sharp, funny, and spot-on look at the ways in which the culture we consume becomes who we are, and an inspiring call-to-arms of all the ways we still need to do better, coming from one of our most interesting and important cultural critics.