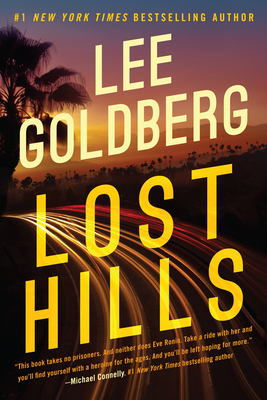 Staff Reviews
---
If, like me, you're the kind of person enjoys a lazy afternoon with a good cop show marathon, but you're torn because you also enjoy spending a layabout day with a good book, well, now you don't have to choose. There's a good, twisty payoff, a bit of regionally appropriate natural-disaster-related heroics, a splatter film worthy crime scene, and some excellent interrogation room tension between our tough hero (she's got something to prove) and our smarmy lowlife with nothing to hide (he swears!). Toss in a partner who's about to retire and is self-aware enough to crack wise about the things an about-to-retire detective can and cannot safely do, and you've got Lost Hills, a snappy procedural that's a real crackerjack.
— Chris Lee
It started with me just wanting to read a story by the guy who wrote the Monk and Diagnosis Murder books and TV shows. It ended with me thoroughly enjoying this intense and entertaining police procedural. Goldberg is really good at writing characters like Monk. In this case it's Eve Ronin, a very young LA Sheriff's Department homicide detective who didn't move up through the ranks. Nobody in the department is thrilled about her being promoted. It seems she made it because of a viral video showing her busting a famous bully. Everyone assumes she's out to ultimately make it in the movies, but Eve is smart, methodical, and cares only about one thing. Solving the crime. This crime is ugly, with lots of blood and a missing family. The motive seems simple enough at first, but the ride will get wild. I'm looking forward to seeing Eve Ronin again. She's complicated, and she's bound to get even better with age!
— Tim McCarthy
Description
---
"Lost Hills is Lee Goldberg at his best. Inspired by the real-world grit and glitz of LA County crime, this book takes no prisoners. And neither does Eve Ronin. Take a ride with her and you'll find yourself with a heroine for the ages. And you'll be left hoping for more." --Michael Connelly, #1 New York Times bestselling author
"Thrills and chills Lost Hills is the perfect combination of action and suspense, not to mention Eve Ronin is one of the best new female characters in ages. You will race through the pages " --Lisa Gardner, #1 New York Times bestselling author
A video of Deputy Eve Ronin's off-duty arrest of an abusive movie star goes viral, turning her into a popular hero at a time when the Los Angeles County Sheriff's Department is plagued by scandal. The sheriff, desperate for more positive press, makes Eve the youngest female homicide detective in the department's history.
Now Eve, with a lot to learn and resented by her colleagues, has to justify her new badge. Her chance comes when she and her burned-out, soon-to-retire partner are called to the blood-splattered home of a missing single mother and her two kids. The horrific carnage screams multiple murder--but there are no corpses.
Eve has to rely on her instincts and tenacity to find the bodies and capture the vicious killer, all while battling her own insecurities and mounting pressure from the media, her bosses, and the bereaved family. It's a deadly ordeal that will either prove her skills...or totally destroy her.