Lab Rats: How Silicon Valley Made Work Miserable for the Rest of Us (Compact Disc)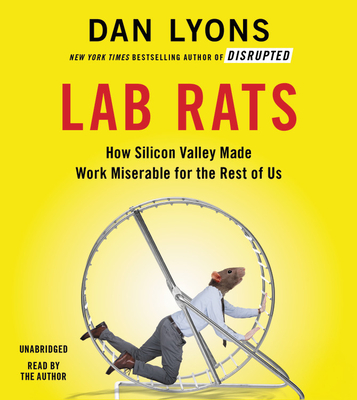 Staff Reviews
---
When Dan Lyons lost his job at Newsweek, he wound up taking a job at Hubspot, only to find that the web 2.0 tech culture was no match for him. He wondered if it was a match for anyone, save tech pro venture capitalists, toxic bosses, and software companies that sold employee monitoring software. But as he began to promote his book, he found his situation was not so isolated. The business, once the province of nerds and do-gooders, is now run by wealthy money who are intent on building unicorns, with an end game of pulling out as much money as possible. The lowest priority are workers, who are burned out by overwork and toxic cultures and out-gamed by business strategies such as Agile and Lean Startup. Regarding the horrifying treatment of employees, the thinking seems to be that since they will all be replaced by machines eventually, why invest? Lyons finds some companies that are doing the right thing - hiring employees instead of contractors, focusing on real quality-of-life issues instead of ping pong tables, and one VC (Kapor Capital) that even focuses on gap-closing investment. Just one, mind you. Lyons' reporting is always enjoyable, even when I don't exactly understand what working with a scrum master is. Let's hope that Lab Rats inspires less unicorns and more zebras.
— Daniel Goldin
Description
---
Why do so many Americans hate their jobs? From New York Times bestselling author Dan Lyons comes this groundbreaking, incisive examination of how the internet-and ideas championed by Silicon Valley power brokers-changed the way we work, damaged our brains, and left us poorer and insecure.
In the months following the publication of Disrupted, Dan Lyons was astonished as hundreds of readers wrote to him with their own harrowing stories of discrimination, fear-mongering managers, and companies denigrating employees in pursuit of quick profit. The letter writers felt helpless, confused, and victimized.
Lyons began to understand how the problems he had identified in the start-up world are infecting virtually every kind of job in America. Paradoxically, the misery index is soaring at a time when companies are giving more lip service than ever about finding ways to make employees happy. What happened to work in America? Who is responsible? And does any company have a model for doing it right?
As Lyons ventured across America in pursuit of answers, he came to understand how a cluster of ideas enabled by the internet and promoted by Silicon Valley companies spread to workplaces across the country and the globe. These new notions about work have broken the social contract that once existed between companies and their employees, making us poorer, insecure, and subject to constant change and dehumanizing technologies that have altered our very psychology.
A few companies, however, get it right. With Lab Rats, Lyons makes a passionate plea for business leaders to understand this dangerous transformation and shows how profit and happy employees can indeed coexist.