The Color of Love: A Story of a Mixed-Race Jewish Girl (Paperback)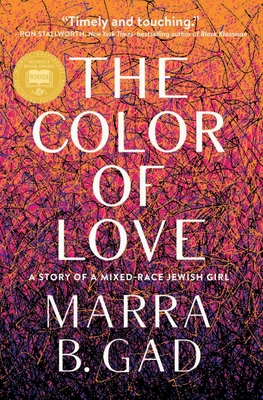 List Price: $17.00
Our Price: $15.30
(Save: $1.70 10%)
Usually Ships in 1-5 Days
Staff Reviews
---
Marra always knew she was adopted, the daughter of a Jewish mother and black father. Her parents made it clear that not only did they love her, but so did her birth mom, who couldn't raise her, but always wanted the best for her. But as she got older, folks around her made it clear that she was not just adopted, but different. The outright racists were easy to write out of the family's life, but Great Aunt Nette was different – she clearly favored Marra's mom and never said anything over to the family, at least until sister Alisa's wedding. But how could this be? Nette was so sophisticated and worldly. But Nette let down Marra again and again, and Marra wrote her off until Nette's Alzheimer's left her in need of help, and only Marra was there to give it. This is a straightforward memoir; there are not the structural or linguistic flourishes that you see in many contemporary stories molded from graduate creative language programs. But the telling only makes the story more immediate and heartfelt. And diversity in the Jewish community is a subject that is important to address - I was telling someone about this book and she immediately had a story about an unthinking thing someone had said about her grandchild. I can only imagine how many more conversations The Color of Love will start, and that's a great thing.
— Daniel Goldin
Description
---
Winner of the 2020 Midwest Book Award in Autobiography/Memoir, The Color of Love is an unforgettable memoir about a mixed-race Jewish woman who, after fifteen years of estrangement from her racist great-aunt, helps bring her home when Alzheimer's strikes. In 1970, three-day-old Marra B. Gad was adopted by a white Jewish family in Chicago. For her parents, it was love at first sight--but they quickly realized the world wasn't ready for a family like theirs. Marra's biological mother was unwed, white, and Jewish, and her biological father was black. While still a child, Marra came to realize that she was "a mixed-race, Jewish unicorn." In black spaces, she was not "black enough" or told that it was OK to be Christian or Muslim, but not Jewish. In Jewish spaces, she was mistaken for the help, asked to leave, or worse. Even in her own extended family, racism bubbled to the surface. Marra's family cut out those relatives who could not tolerate the color of her skin--including her once beloved, glamorous, worldly Great-Aunt Nette. After they had been estranged for fifteen years, Marra discovers that Nette has Alzheimer's, and that only she is in a position to get Nette back to the only family she has left. Instead of revenge, Marra chooses love, and watches as the disease erases her aunt's racism, making space for a relationship that was never possible before. The Color of Love explores the idea of yerusha, which means "inheritance" in Yiddish. At turns heart-wrenching and heartwarming, this is a story about what you inherit from your family--identity, disease, melanin, hate, and most powerful of all, love. With honesty, insight, and warmth, Marra B. Gad has written an inspirational, moving chronicle proving that when all else is stripped away, love is where we return, and love is always our greatest inheritance.
About the Author
---
Marra B. Gad was born in New York and raised in Chicago. She is an independent film and television producer and now calls Los Angeles home. Ms. Gad is a graduate of the University of Illinois at Urbana-Champaign and holds a master's degree in modern Jewish history from Baltimore Hebrew Institute at Towson University.