Little Audrey's Daydream: The Life of Audrey Hepburn (Hardcover)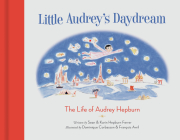 $17.95
Usually Ships within 2 weeks.
Description
---
Meet Audrey Hepburn as you've never seen her before in Little Audrey's Daydream: The Life of Audrey Hepburn, an empowering children's book by her son and daughter-in-law, Sean and Karin Hepburn Ferrer.

Little Audrey's Daydream tells the story of Audrey Hepburn's life from her own perspective as a child growing up in Belgium and Holland, and into her adult life as an actress, mother, and humanitarian.

• A beautiful, personal introduction to the life of Audrey Hepburn: Audrey's extraordinary story unfolds during her childhood in Holland, where her happy life of ice-skating and dancing changes with the harsh realities of World War II. As she daydreams about who she will become when the war ends, her real-life story of fame, family, and charity work unfolds.
• A beacon of hope for children during difficult times: Facing dire circumstances during Occupation, Audrey and her family often don't have enough to eat. Despite the challenges, Audrey never loses hope that, with spirit and determination, her dreams can still come true.
• All author proceeds will be donated to EURORDIS: Following in the footsteps of his mother's incredible humanitarian legacy, Sean Hepburn Ferrer and his wife Karen are donating all of their author proceeds from the book to EURORDIS, the Voice of Rare Disease Patients in Europe.
• Whimsical illustration by celebrated French couple:Little Audrey's Daydream is beautifully illustrated by the legendary Dominique Corbasson and Francois Avril. This book is Corbasson's last work.

Little Audrey's Daydream is an essential addition to the library of all Audrey Hepburn fans and a beautiful introduction to the life of Audrey Hepburn for children.
About the Author
---
Sean Hepburn Ferrer was born in Bürgenstock, Lucerne, Switzerland on July 17, 1960 to Audrey Kathleen Hepburn-Ferrer and Melchor Gaston Ferrer. For 40 years, Sean has worked in every aspect of the Entertainment industry and a series of nonprofits dedicated to continuing his mother's humanitarian legacy as a UNICEF ambassador. He is the author of the New York Times best seller Audrey Hepburn, An Elegant Spirit. Sean, together with his wife Karin with whom he not only shares his life but also his day to day business, distilled Audrey's rich life into this essential story in Little Audrey's Daydream. They split their time between Switzerland, Spain, and Florence, Italy, with their respective five children.
Praise For…
---
"It's a charming fairy tale....The fact that one of the authors of this seemingly too-good-to-be-true tale, Sean Hepburn Ferrer, is Hepburn's daydreamed-into-existence oldest son (his wife, Hepburn's daughter-in-law, is the other) winks at its central conceit, that the seeds of what we will become are within us from our earliest days, and adversity can make us stronger and more determined." 
- The New York Times

"It's a charming fairy tale....The fact that one of the authors of this seemingly too-good-to-be-true tale, Sean Hepburn Ferrer, is Hepburn's daydreamed-into-existence oldest son (his wife, Hepburn's daughter-in-law, is the other) winks at its central conceit, that the seeds of what we will become are within us from our earliest days, and adversity can make us stronger and more determined."
- The New York Times Book Review

"Based on Audrey Hepburn's childhood experiences in Holland during World War II, Little Audrey's Daydream introduces children to the actress's life..The book captures her determination, spirit and aims to inspire readers, young and old."
- SheReads

"Spanning 29 recent projects from around the world, this large-format edition showcases Kundig's signature attention to innovation, materiality, and craft."
- New York Journal of Books

"Written by Audrey Hepburn's son and daughter-in-law, this personal biography introduces children to the late actress's extraordinary life from her own perspective.... It reads like a young girl's daydream but is a real story of hope, perseverance, fame and family. Dominique Corbasson and Francois Avril's illustrations are absolutely charming too, complementing the tale's optimistic tone. You'd be forgiven for keeping this book for yourself."
- CultureFly (UK)

"Written by Audrey Hepburn's children, the book tells the life story of Audrey Hepburn from her POV as a child. From birth to the Nazi Occupation, to her love of acting and dance, to becoming a humanitarian. It's a beautiful story that introduces some big concepts. Once again though, my daughter loves it. Fans of Audrey Hepburn will love it and I anticipate it'd make a great read for older preschool and young elementary school aged children as well."
- Confused Millennial

"Children might not know who Audrey Hepburn is, but their grandparents and parents sure do, and this is an absolutely charming introduction to one of our most beloved actresses and humanitarians, written by her oldest son Sean Ferrer. A fascinating biography about youngster Audrey growing up in Europe during WWII, the story follows Audrey's struggles even as she makes believe better days to come."
- AARP.com