Russian Cuisine in Exile (Paperback)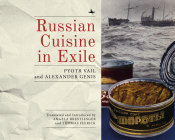 $24.95

Usually Ships within 2 weeks.
Description
---
"Mouth-watering, erudite, nostalgic, mordantly funny, Russian Cuisine in Exile has been a beloved cult classic for generations of hungry Russians both at home and abroad. Now this tour de force of literary food writing is finally available in a terrific English translation, replete with a smart, eye-catching design, whimsical illustrations, and helpful commentaries. A feast for the senses " --Anya von Bremzen, author of Mastering the Art of Soviet Cooking: A Memoir of Food and Longing

Russian Cuisine in Exile
brings the essays of Pyotr Vail and Alexander Genis, originally written in the mid-1980s, to an English-speaking audience. A must-read for scholars, students and general readers interested in Russian studies, but also for specialists in migr literature, mobility studies, popular culture, and food studies. These essays--beloved by Russians in the U.S., the Russian diaspora across the world, and in post-Soviet Russia--narrate everyday experiences and re-imagine the identities of immigrants through their engagement with Russian cuisine. Richly illustrated and beautifully produced, the book has been translated "not word for word, but smile for smile," to use the phrase of Vail and Genis's fellow migr writer Sergei Dovlatov. Translators Angela Brintlinger and Thomas Feerick have supplied copious authoritative and occasionally amusing commentaries.