Opioid, Indiana (Paperback)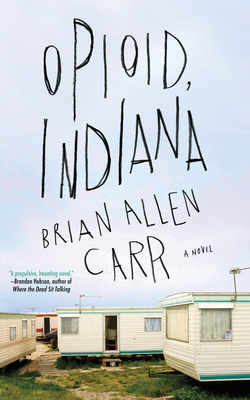 Staff Reviews
---
Misery, pain, suffering, and sky full of a myriad shades of grey. That's what fills up Brian Allen Carr's town of Opioid, IN. Seventeen-year-old Riggle wanders through a perfectly of the moment milieu – a burnout on a bicycle flying a Confederate flag hollers MAGA slogans at our all-too-decent young narrator – searching for his addict uncle who's disappeared with the rent that's due at the end of the week. Riggle spends just as much time remembering his deceased parents and the tough past that landed him in Indiana as he does looking for a better way to get by, and his hope, mixed with snippets of philosophy and fantasy, make the week spent in Opioid, Indiana unforgettable.
— Chris Lee
After the death of both of his parents, seventeen-year-old Riggle finds himself being uprooted from his comfortable life on the Texas-Mexico border and sent to live with his Uncle and his girlfriend in rural Indiana. Riggle finds himself confronted by confederate flags, the rising opioid crisis, and Trump voters. But of course, things only go from bad to worse, and it's not long until his opioid addicted uncle disappears with all $800 of their rent money. It's Monday, and rent is due Friday. Lucky for Riggle he has a week of suspension from school to try and track down his uncle and the money. Told in the span of one week, this unique novel takes the best qualities of Grit-lit and gives readers a heartfelt look at small town America. I truly felt this book had the most genuine examination of the changing landscapes of American culture and politics that I've read in a while. Carr was amazingly able to capture the way many young Americans feel about race, pop culture, and politics. The dialogue and internal monologues of Riggle blew me away due to the accuracy and authenticity they held when it comes to the minds and opinions of Gen-Zers. This book is one to check out for both Adult and YA readers alike.
— From
Parker's Staff Recommendations
October 2019 Indie Next List
---
"You'll read this book in one breathless sitting, but the story will stay with you. Riggle, the 17-year-old orphaned protagonist, is exactly what we all need. He's on a deadline but out of cell phone data to search for answers. Toggling between his memory and the present, he must discern for himself what he feels, how he will survive, and how he will process his grief; in so doing, he is able to better empathize with everyone he encounters. Riggle is also very funny and filled with all of the wonderful contradictions that make us human. Opioid, Indiana is vulnerable and unflinching. It's a beautiful, original story."
— Tiffany Lauderdale Phillips, Wild Geese Books, Franklin, IN
Description
---
"Full of gorgeous language and wild insights."—Nick Flynn

Set in the beleaguered heart of Indiana's opioid crisis, Brian Allen Carr's timely and tender novel about a teen struggling to find his place in the world—and come up with $800 rent—is at once a moving rumination on the hopeful power of story and a harrowing insight into modern America. It is a book you won't soon forget.

Seventeen-year-old Riggle is living in rural Indiana with his uncle and uncle's girlfriend after the death of his parents. Now his uncle is missing, probably on a drug binge. It's Monday, and $800 in rent is due Friday. Riggle, who's been suspended from school, has to either find his uncle or get the money together himself. His mission exposes him to a motley group of Opioid locals—encounters by turns perplexing, harrowing, and heartening.

With empathy and insight, Carr explores what it's like to be a high school kid in the age of Trump—a time of economic inequality, addiction, Confederate flags, and mass shootings. Through the voice of its unforgettable protagonist—charismatic, confused, searching, by turns cynical and naïve, wise and impulsive—Opioid, Indiana pierces to the heart of our moment.
About the Author
---
Brian Allen Carr lives in Indiana. He is the author of the novel Sip, along with several novellas and story collections. He is the winner of a Wonderland Book Award and a Texas Observer Story Prize. His short fiction has appeared in Granta, Ninth Letter, Hobart, Boulevard and other publications.
Praise For…
---
Long-listed for the Aspen Words Literary Prize
An October 2019 Indie Next selection

Praise for Opioid, Indiana

"Opioid, Indiana is narrated by an orphan, who from the outside could be called broken, yet his days are lit by sideways kindnesses and glimmery wonder. Full of gorgeous language and wild insights, by the end it seems possible that everything is going to be okay. I burned through his world with him."
—Nick Flynn, author of Another Bullshit Night in Suck City

"Tragically funny, Opioid, Indiana is a dynamite explosion of a book, busting through our misconceptions about small towns to reveal the secret holiness in the life of a teenage boy. It'll blow up your brain."
—Juliet Escoria, author of Juliet the Maniac

"Brian Allen Carr's Opioid, Indiana is a propulsive, haunting novel taking the reader through the week of a family on the fringes of collapse. Carr's spare prose and ability to write about struggle in such a powerful way will surely mark him as an important writer to watch. I loved it!" 
—Brandon Hobson, National Book Award Finalist and author of Where the Dead Sit Talking

"Opioid, Indiana shot straight through me and left pieces of itself in my heart and my gut. It's like Catcher in the Rye but even better. A smart, funny, sweet-sad book with a totally irresistible narrator."
—Mesha Maren, author of Sugar Run

"With refreshing, authentic teenage bluntness, orphaned narrator Riggle sees right through our contemporary American self-deceptions—while also unraveling the mysteries of his own wounded family. Unpretentious and genuine, this poignant coming-of-age novel doesn't shy away from the question: How will today's young people make sense of the broken world we've left them?" 
—Chandler Klang Smith, author of The Sky Is Yours 

"Electrifyingly good."
—New York Magazine

"Carr brings a wide range of ideas into the project, from the legacy of white supremacy to the desolation of rural drug addicts, but they are distilled neatly and convincingly into a near-perfect anthem of disaffected youth in a small frozen town . . . Opioid reminds me of a book I would have devoured in high school, read half a dozen times."
—Minneapolis Star Tribune

"A hero in which teenage readers might just see themselves . . . Riggle also has no clear solutions or shortcuts, just imperfect effort. Most teenage boys should find something of themselves in a character who shows what it looks like on their own ground floor. I hope they can see a roadmap through their own struggles. Riggle is a hero for showing that perfection isn't the requirement to goodness."
—The Daily Beast

"Opioid, Indiana is lyrical in unexpected ways. Despite his slangy diction, Riggle's voice rings with innocence—as he openly questions the stupidity of racism; as he mulls over the recent school shooting in Florida and wonders about his teachers and classmates; as he gets a job washing dishes and explains in poetic detail the way the dishwater affects his psyche. Carr uses this misfit lyricism to create a distinctly American character: scrappy, sullied, but sincere in heart."
—Shelf Awareness, Starred Review

"Carr has given us one of the most vital coming-of-age novels of the Trump era."
—InsideHook

"Brian Allen Carr isn't messing around. Opioid, Indiana drops you right in with seventeen-year-old Riggle and his dire situation: his parents are dead, his uncle is missing, and he needs rent money fast. His desperation leads him face-to-face with the opioid crisis. Sometimes gut-wrenching, sometimes heartwarming, Opioid, Indiana paints an empathetic portrait of a survivor."
—CrimeReads

"Hilarious, heartbreaking . . . Carr's style is delightfully straightforward, and he takes special pleasure in absurdity. The climax of the story is so strange, horrifying and darkly hilarious that you may have to put the book down because you're laughing so hard."
—BookPage

"The landscape of Middle America is grim but has glimmers of hope in this outstanding novel from Carr . . . Both gripping and timely."  
—Publishers Weekly 

"Wonderfully crafted and artfully poignant in its reflection of our times." 
—Kirkus Reviews 

"The Catcher in the Rye for Generation Z . . . Riggle is easy to love, and his story is unforgettable and cathartic."
—Booklist

"If you have not read Opioid, Indiana by Brian Allen Carr, you should, you really should. It's one of the best books I've read this year. Carr vividly details the lives of those in small-town Middle America, where drugs and neglect, both social and personal, are endemic. And yet this is a hopeful book in which 17-year-old Riggle goes out looking for his addicted uncle and the rent money, and finds purpose and possibly a future. The descriptions of Central Indiana weather are particularly spot on, and poetic. Don't walk, run, to your library and get this lyrical, heart-wrenching, life-affirming novel."
—The Chicago Public Library

"Opioid, Indiana picks you up by the collar. I had both laughed and cried by page 24. The plot is compelling, but there's so much more going on in this book about the nuances and complexities in people . . . the kind of truth that polarized news cycles just can't quite reach. Few writers can capture the balance of the light and dark of being human quite like Brian Allen Carr."
—Tiffany Phillips, Wild Geese Bookshop (Franklin, Indiana)

"Misery, pain, suffering, and sky full of a myriad shades of grey. That's what fills up Brian Allen Carr's town of Opioid, IN. Seventeen-year-old Riggle wanders through a perfectly of the moment milieu—a burnout on a bicycle flying a Confederate flag hollers MAGA slogans at our all-too-decent young narrator —searching for his addict uncle who's disappeared with the rent that's due at the end of the week. Riggle spends just as much time remembering his deceased parents and the tough past that landed him in Indiana as he does looking for a better way to get by, and his hope, mixed with snippets of philosophy and fantasy, make a week spent in Opioid, Indiana unforgettable."
—Chris Lee, Boswell Book Company (Milwaukee, WI)

"Opioid, Indiana is the first novel of the 21st century that gives me hope for the future. It's Mr. Penumbra as a realist."
—Pete Mock, McIntyre's Books (Pittsboro, NC)