Out of Mesopotamia (Compact Disc)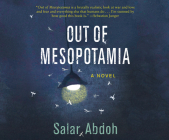 $59.99
Usually Ships within 2 weeks.
Staff Reviews
---
In what should well become an essential portrait of the fight against the Islamic State, Salar Abdoh's novel reinvigorates the way we write about war. Saleh, an Iranian journalist and reluctant drama-as-propaganda television writer, travels between the urbane art world of Tehran and the battlefields near the northern border of Syria and Iraq, where he's gotten more involved than a reporter is supposed to be. The novel digs into Saleh's meditations and struggle to understand: why do we choose to bloody our hands? The answers are many, uneasy and contradictory, but as Abdoh riffs on the Western canon of war – the adrift disillusionment of Hemingway, the absurdity and commerce of Catch-22 – Out of Mesopotamia is nothing less than profound.
— Chris Lee
Description
---
Saleh Abdoh, the narrator of Out of Mesopotamia, is a middle-aged Iranian journalist who moonlights as a writer for one of Iran's most popular TV shows, but cannot keep himself away from the front lines in neighboring Iraq and Syria. There, the fight against the Islamic State is a proxy war, an existential battle, a declaration of faith, and, for some, a passing weekend affair.After weeks spent dodging RPGs and witnessing acts of savagery and stupidity, Saleh returns to his civilian life of Tehran bookstore readings and trendy art openings and finds it to be an unbearably dislocating experience. Pursued by the woman who broke his heart, his official handler from state security (who wants him for questioning over a suspicious volume of Proust), and the screenwriters with whom he is supposed to be collaborating, Saleh has reason to flee again from everyday life--but not necessarily to discard it. Surrounded by men whose willingness to achieve martyrdom both fascinates and appalls him, Saleh struggles to make sense of himself and the turmoil that surrounds him.An unprecedented glimpse into the fight against the Islamic State from a Middle Eastern perspective, Out of Mesopotamia follows in the tradition of the Western canon of martial writers, but then subverts and expands upon it before completely blowing it apart. Drawing on firsthand experience, it gives agency to the voiceless while offering a meditation on war that is moving, humane, darkly funny, and resonantly true.