The Granite Moth: A Novel (Paperback)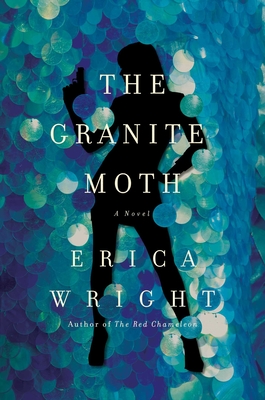 Description
---
"This new PI has got a smart mouth on her, and plenty of wigs to help her find her own true character."—The New York Times Book Review (on The Red Chameleon)
It begins with a bang: Kathleen Stone is watching her friend Dolly and his fellow drag queens from The Pink Parrot perform at the Halloween Parade when their float explodes. Suspecting foul play, The Pink Parrot's owner, Big Mamma, hires Kat to find the culprit.
Meanwhile, Kat has not given up on her quest to bring gangster Salvatore Magrelli to justice and once more dons a disguise to infiltrate The Skyview, an exclusive club run by his wife, Eva. When she watches the club's poker dealer drop dead during a high-stakes game, she decides to look into his death as well. Upon discovering that he was also gay, she suspects that this murder could be a hate crime connected to the parade explosion.
However, as Kat digs deeper, she realizes that the truth is much more complicated and the real villains are much more difficult to spot.
About the Author
---
Erica Wright is a senior editor at Guernica Magazine. Her first novel featuring P. I. Kathleen Stone, The Red Chameleon, was published by Pegasus Books in 2014. Erica lives in Florida.
Praise For…
---
More
concentrated than Kathleen's debut, Wright's second entry begins to develop a
detective who can shine through all those costume changes.

Kathleen Stone is a private investigator well versed in the art of disguise. Her wigs, costumes and varied personae come in handy in the fight against a revenge-minded villain from her days in the NYPD.

Brisk, dark, slinky. The Granite Moth confirms that Wright, an editor at the prestigious literary magazine Guernica, has a very promising second career on her hands.

— Charles Finch

Much of the fun in this layered thriller comes from Wright's sardonic humor, which is fresh and young and smart, and her prose style, which is not the sort of hackneyed fare that largely populates the thriller genre.

Struts into hard-boiled territory with a private detective who's skilled in disguises and has more wigs than Beyoncé (well maybe not quite), a BF, Dolly, who's a talented drag queen (he has more wigs than Bey), and she has a relationship with the NYPD that's fraught with tension the result of being thrown into undercover assignments right out of the academy. A lively read.

At the start of this riveting crime novel from poet Wright, PI Kat Stone, a former NYPD undercover detective, discovers the dead body of Stephen Kramer, the unfaithful husband she's been tailing, in the men's room of an Upper East Side bar. When Kat begins to look like the most likely suspect in Kramer's shooting murder, Det. Ellis Dekker, who's in charge of the case and a friend of Kat's, vouches for her innocence and brings her unofficially into the investigation. After someone breaks into both her home and office, Kat begins to think that her former undercover activities might be catching up with her. Painful repressed memories start to surface that touch on the reason she resigned from the police force at age 25. A possible romance with Ellis adds to the intrigue, as does the appearance of a past lover. Readers will want to see more of the humorous, thoroughly engaging Kat.
— Publishers Weekly

The Red Chameleon introduces us to a thrilling new hardboiled world. Wright has created a rich and nuanced protagonist, as well as a gripping plot, and she writes in a style agile enough to veer into surprising pockets of emotion.

— Justin Kramon, author of Finny and The Preservationist

A complex tale filled with humor and sharply drawn characters, Erica Wright takes the reader on a thrilling ride where confronting evil can scare you into hiding or help you come out of the shadows.
— Melodie Johnson Howe, author of City of Mirrors

The Red Chameleon is a fast, exciting read that mystery lovers will consume in huge gulps.

— Carolyn Haines, author of The Darkling and The Seeker