The Last Taxi Driver (MP3 CD)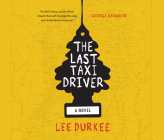 $22.99

Usually Ships within 2 weeks.
Staff Reviews
---
Well, if you've ever said to yourself, 'Man, I sure wish Taxicab Confessions was set in Mississippi and the stories were told by a UFO chasing, Shakespeare worshipping Buddhist with anger issues,' then boy oh boy do I have the book for you. The Last Taxi Driver is one glorious, delirious cruise into the depths of the downtrodden folks of the South as told by your new favorite person, Lou, a cabbie trying desperately to be as compassionate as is reasonably possible and maybe even scrounge up a little truth, all while not getting himself killed by an idiot taking driver's seat selfies. Crank up the car tunes (skip Skynyrd, opt for David Banner), jump into the back seat, and get ready to have the best time ever riding along for the worst day of Lou's life.
— Chris Lee
Description
---
This darkly comedic novel centers around a day in the life of an exhausted middle-aged hackie who's about to lose his job to Uber, his girlfriend to lethargy, and his ability to stand upright to chronic back spasms. Lou--a lapsed novelist and UFO enthusiast who has returned to his home state of Mississippi after decades away--drives for a ramshackle taxi company that operates on the outskirts of a college town among the trailer parks and housing projects. With Lou's way of life fast vanishing, an ex-dispatcher returns to town on the lam, triggering a bedlam shift that will test Lou's sanity and perhaps cost him his life. Against this backdrop, Lou has to keep driving and driving--even if that means aiding and abetting the host of criminal misfits haunting the back seat of his Town Car. Written by a former cabbie, The Last Taxi Driver careens through the highways and backroads of North Mississippi as Lou becomes increasingly somnambulant and his fares increasingly eccentric.