Banned Book Club (Paperback)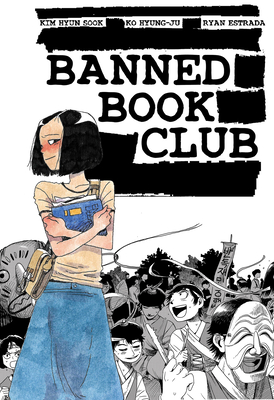 $15.00
Usually Ships in 1-5 Days
Staff Reviews
---
Hyun Sook Kim is a freshman in college during a turbulent time to say the least. It's 1980-something in South Korea, any day can see you or your friends & family questioned, arrested, beaten, or never to be seen again. As much as Hyun Sook tries to avoid conflict and focus on her studies; the Banned Book Club and the friends she makes there will forever change her. The Banned Book Club is an extraordinary graphic novel that will resonate many in today's political climate.
— Jen Steele
Banned Book Club tells the true story of Kim Hyun Sook's first year at university in 1983 South Korea. Hyun Sook is excited to start classes and begin her educational career, but she soon finds out that university is not quite what she imagined. Campus protests, police retaliation, and hostility between students is all in a day's work. But all Hyun Sook wants is to read the books she is assigned for class, make good grades, and stay out of trouble! Hyun Sook quickly finds herself enticed to join a book club that, just like university, might not be exactly what she is expecting. This graphic memoir is highly entertaining while also extremely educational. I felt like I was learning right alongside Hyun Sook as she became enlightened to her nation's history and political turmoil. This book stands out as not only an examination on history but also an important critique of our current political climate. Banned Book Club is a must-read! 
— Parker Jensen
We take for granted the simple freedom to read Marx, Locke, Sartre, De Beauvoir - a freedom rarely exercised in countries where openly expressing a political opinion is common. Kim Hyun Sook's memoir of her experiences during South Korea's Fifth Republic is an eye-opening reminder that life under a totalitarian regime is not just fodder for dystopian fiction. This graphic novel made me contemplate my own moxie - would I be able to withstand the fear of capture, torture, and much worse in order to read what I want to read? Would you?
— Rachel Copeland
Description
---
A Junior Library Guild Selection
When Kim Hyun Sook started college in 1983 she was ready for her world to open up. After acing her exams and sort-of convincing her traditional mother that it was a good idea for a woman to go to college, she looked forward to soaking up the ideas of Western Literature far from the drudgery she was promised at her family's restaurant. But literature class would prove to be just the start of a massive turning point, still focused on reading but with life-or-death stakes she never could have imagined.
This was during South Korea's Fifth Republic, a military regime that entrenched its power through censorship, torture, and the murder of protestors. In this charged political climate, with Molotov cocktails flying and fellow students disappearing for hours and returning with bruises, Hyun Sook sought refuge in the comfort of books. When the handsome young editor of the school newspaper invited her to his reading group, she expected to pop into the cafeteria to talk about Moby Dick, Hamlet, and The Scarlet Letter. Instead she found herself hiding in a basement as the youngest member of an underground banned book club. And as Hyun Sook soon discovered, in a totalitarian regime, the delights of discovering great works of illicit literature are quickly overshadowed by fear and violence as the walls close in.
In BANNED BOOK CLUB, Hyun Sook shares a dramatic true story of political division, fear-mongering, anti-intellectualism, the death of democratic institutions, and the relentless rebellion of reading.
About the Author
---
Kim Hyun Sook was born in Changwon, South Korea. She became a member of a banned book club in the 1980s while studying English Language and Literature. This is her first book. She has co-written comics for websites including The Nib and Oh Joy Sex Toy, and she translated Lady Rainicorn's dialogue for Adventure Time comics. She now runs a new banned book club in Busan, where she lives with her husband, Ryan, and her cat, Dog Baby. Ryan Estrada is the author of POORCRAFT: WISH YOU WERE HERE, Learn to Read Korean in 15 Minutes, Ryan Made Mistakes, Wish You Were Here, Broken Telephone, Aki Alliance, and many other comics. He started submitting his work to newspapers when he was six years old, and one of those very newspapers finally hired him when he was 16. He has had many adventures around the world since, but the best thing he ever did was marry Kim Hyun Sook.