The Magical Language of Others: A Memoir (Hardcover)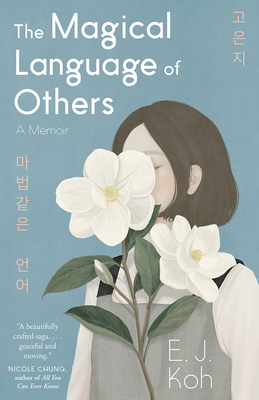 Staff Reviews
---
When Eun Ji was a teenager, her parents left California to return for Seoul for a job, leaving EJ with her older brother. They stayed away for seven years, with only occasional trips and an attempt by Koh to live in Korea, where she trained in a Kpop training camp. Koh weaves together her own narrative with that of her relatives, telling tales of loss and survival. Punctuating the story are Koh's mother's letters back to America, reprinted in their original form - mostly Korean, with occasional English (sewer line) – as well as a full English translation. The voices play against each other, with the delicate and dreamlike meditations of Koh counterpointed by Mom's earnest and matter-of-fact musings. Joined together, they form a beautiful making-of-a-poet memoir.
— Daniel Goldin
"Where do the stories of our mothers and grandmothers begin and ours end?" EJ Koh's The Magical Language of Others uses handwritten letters from her mother, hidden away for years, to create something visceral, fresh, and transcendent. Koh's writing style often felt meditative, and I found myself lulled into a trance while reading, only to be jolted back to life by certain passages, like the death of her canary in the jaws of her older brother's husky or her grandmother's experiences during the Jeju Island Massacre. Both an exploration of love and forgiveness, this memoir feels like it was written as both an inward reflection and as a reconciliation with her past experiences (perhaps moreso than other memoirs; certainly it stands out from the ones I have read). This being the case, her readers are gifted an intimate and personal glimpse into the relationship Koh has with both her mother and family and her relationship to the places and languages that have formed her. The Magical Language of Others is a book that I could read over and over again, discovering something new about what it means to live a life each time.
— Kira McGrigg
Great Reads
---
"A beautifully written memoir of history, culture, past, and present — this might be one of the best books I've read all year and a close second to Pachinko, one of my all-time favorites. The letters from a mother read from her daughter's perspective really give you a sense of the complexity of family relationships, and how certain events mold the consequences of what's to come. Just beautiful!"
— Desirae Wilkerson, Paper Boat Booksellers, Seattle, WA
Description
---
A tale of deep bonds to family, place, language—of hard-won selfhood told by a singular, incandescent voice.
The Magical Language of Others is a powerful and aching love story in letters, from mother to daughter. After living in America for over a decade, Eun Ji Koh's parents return to South Korea for work, leaving fifteen-year-old Eun Ji and her brother behind in California. Overnight, Eun Ji finds herself abandoned and adrift in a world made strange by her mother's absence. Her mother writes letters, in Korean, over the years seeking forgiveness and love—letters Eun Ji cannot fully understand until she finds them years later hidden in a box.
As Eun Ji translates the letters, she looks to history—her grandmother Jun's years as a lovesick wife in Daejeon, the horrors her grandmother Kumiko witnessed during the Jeju Island Massacre—and to poetry, as well as her own lived experience to answer questions inside all of us. Where do the stories of our mothers and grandmothers end and ours begin? How do we find words—in Korean, Japanese, English, or any language—to articulate the profound ways that distance can shape love? Eun Ji Koh fearlessly grapples with forgiveness, reconciliation, legacy, and intergenerational trauma, arriving at insights that are essential reading for anyone who has ever had to balance love, longing, heartbreak, and joy.
The Magical Language of Others weaves a profound tale of hard-won selfhood and our deep bonds to family, place, and language, introducing?in Eun Ji Koh?a singular, incandescent voice.
About the Author
---
E. J. Koh is the author of poetry collection A Lesser Love, winner of the Pleiades Editors Prize (Louisiana State U. Press, 2017). Her poems, translations, and stories have appeared in Boston Review, Los Angeles Review of Books, World Literature Today, among others. She is the recipient of The MacDowell Colony and Kundiman fellowships, 2017 ALTA Emerging Translator Mentorship, and is Runner-Up for the 2018 Prairie Schooner Summer Nonfiction Prize.
Praise For…
---
Koh's book is a tremendous gift. We're so fortunate to have this literary reckoning from a tremendously talented writer. The Magical Language of Others is a wonder.


A haunting, gorgeous narrative...lushly told. Brilliant.

Magnificent. ... This is a memoir that needs to be read more than once.

Koh draws on a rich mastery of language and contemplation as a poet, weaving a powerful narrative of strength and longing that collapses generations of history and distance in one brilliant reckoning of what it means to forgive and still remain tender.

Gorgeous, lyrical, painful, poignant and hopeful.

I just finished E.J. Koh's page-turning memoir The Magical Language of Others and it was nothing short of a magical read on forgiveness, love and intergenerational trauma.


The Magical Language of Others is a masterpiece, a love letter to mothers and daughters everywhere.


A powerful look at family, culture, language, and selfhood.

The Magical Language of Others is an exquisite, challenging, and stunning memoir. E. J. Koh intricately melds her personal story with a broader view of Korean history. Through these pages, you are asked to experience one family's heartbreak, trauma, and complex love for each other. This memoir will pierce you.

— Crystal Hana Kim, author of If You Leave Me

In The Magical Language of Others, E.J. Koh writes of the boundary, between anonymity and naming, between absence and abandonment, between cruelty and safety for four generations of mothers and daughters, each speaking with an occupied heart and crossing narrative borders between Korea, Japan, and America.  As a reader, you give yourself over to her narrative territory and the resetting of the borders of lineage, language, and lives lost.

— Shawn Wong, author of American Knees

This memoir broke my heart. The tragedies that filled the lives of Koh's mother and grandmothers are woven into mythic, magic tales in Koh's hands. Only by Koh's grace and mastery are we not crushed by the stories within The Magical Language of Others. I could read this book a thousand times over.

— Sarah Blake, author of Naamah

E.J. Koh's The Magical Language of Others grapples with intergenerational loss and love between mothers and daughters across time, war, and immigration. Koh's painful journey is bridged by her mother's letters, which she translates, unfolding the language of mothering and tenderness. Koh remarkably and beautifully translates the language of mothers as the language of survivors.

— Don Mee Choi, author of Hardly War

Indisputably brilliant. I read The Magical Language of Others in a single sitting--all the while never wanting it to end.

— Jeannie Vanasco, author of Things We Didn't Talk About When I Was a Girl

A coming-of-age story, a family story, and a meditation on language and translation, with an emotional range to match.
— Caitlin Horrocks, author of The Vexations