The Book of Atlantis Black: The Search for a Sister Gone Missing (Hardcover)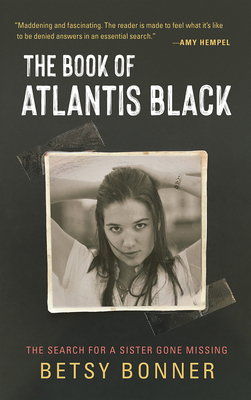 List Price: $26.95
Our Price: $21.56
(Save: $5.39 20%)
Staff Reviews
---
Betsy Bonner's The Book of Atlantic Black is a compulsively readable memoir - it's both an exploration of the intertwined, yet polarized lives of the author and her late sister, and an obsessive pursuit for concrete details surrounding her death. A grunge musician originally christened Nancy Bonner, Atlantis lives a life defined by abuse, mental illness, and an unflinching need for glory and greatness; she supposedly dies by overdose on the floor of a Tijuana hotel room. It's questionable that the body belonged to Atlantis, and Bonner spends years searching for some semblance of truth regarding her sister's demise. What Bonner discovers throughout her sister's Facebook messages, emails, Craigslist ads, and interview tapes, serves only to complicate the tangled web of people and circumstances surrounding Atlantis's final months, creating a veil of intrigue and mystery that one could almost imagine Atlantis reveling in. While you hope page after page that the author will find closure, her unsatisfying hunt for answers is what makes her work echo for so long after the final sentence ends, serving to create something impactful and lasting, a homage to a sister lost.
— Kira McGrigg
Description
---
"A haunting, mind-bending memoir. . . . riveting." —New York Times
"A mixture of biography and true crime, this narrative . . . offers more plot twists, shocking revelations and shady characters than most contemporary thrillers." —NPR
The Book of Atlantis Black: The Search for a Sister Gone Missing will have you questioning facts, rooting for secrets, and asking what it means to know the truth.
A young woman is found dead on the floor of a Tijuana hotel room. An ID in a nearby purse reads "Atlantis Black." The police report states that the body does not seem to match the identification, yet the body is quickly cremated and the case is considered closed.
So begins Betsy Bonner's search for her sister, Atlantis, and the unraveling of the mysterious final months before Atlantis's disappearance, alleged overdose, and death. With access to her sister's email and social media accounts, Bonner attempts to decipher and construct a narrative: frantic and unintelligible Facebook posts, alarming images of a woman with a handgun, Craigslist companionship ads, DEA agent testimony, video surveillance, police reports, and various phone calls and moments in the flesh conjured from memory. Through a history only she and Atlantis shared—a childhood fraught with abuse and mental illness, Atlantis's precocious yet short rise in the music world, and through it all an unshakable bond of sisterhood—Bonner finds questions that lead only to more questions and possible clues that seem to point in no particular direction. In this haunting memoir and piercing true crime account, Bonner must decide how far she will go to understand a sister who, like the mythical island she renamed herself for, might prove impossible to find.
About the Author
---
Betsy Bonner is the author of Round Lake, a poetry collection published by Four Way Books. She is a faculty member of the Writer's Foundry M.F.A. program at St. Joseph's College in Brooklyn, New York and the former Director of the 92Y Unterberg Poetry Center, where she teaches an annual poetry seminar. Her work has appeared in The New Republic, The Paris Review, Parnassus, Poetry Daily, The Brooklyn Quarterly and The Southampton Review. She holds an MFA in creative writing from Columbia University and a BA from Sarah Lawrence College. She is a fellow of the MacDowell Colony, Eliot House and the VCCA, and a mentor in PEN's Prison Writing Program.
Praise For…
---
Haunting, mind-bending. . . . A wrenching portrait.

Gripping. . . . Betsy Bonner is the storyteller, but Atlantis Black is the story, the mystery, the victim, sometimes the perpetrator and always the question.

You'll read it in one sitting.

A haunting, profound investigative memoir that will resonate with readers as both a compelling true crime story and an affecting literary work.

Part exorcism and part adoring tribute, The Book of Atlantis Black is deeply haunting and darkly fascinating.


Lyrical and compelling.

Carefully crafted, haunting, and absorbing, this thrilling memoir echoes in the head and heart long after the final page.

Maddening and fascinating. The reader is made to feel what it's like to be denied answers in an essential search.
— Amy Hempel, author of Sing To It

This memoir is as haunting, as memorable, and as magnetic as the tragic young woman at its core. I tore through it at lightning speed but I also didn't want it to end.
— Amanda Fortini

Betsy Bonner writes with the precision of a poet and the courage of a survivor. I could not put this book down.
— Domenica Ruta, author of Last Day

An unforgettable portrait of an impossible yet compelling young woman taken down by her own demons, and fighting every step of the way.
— David Gates, author of A Hand Reached Down to Guide Me

Betsy Bonner has crafted a terse, urgent page-turner that is equally ode, elegy, and mystery.
— Chelsey Johnson, author of Stray City

Suspenseful and beautiful. . . . I'm speechless.
— Jeannie Vanasco, author of Things We Didn't Talk About When I Was a Girl