Good Riddance (Compact Disc)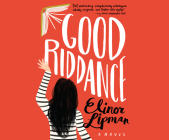 $59.99
Usually Ships within 2 weeks.
Staff Reviews
---
In her inheritance, Daphne Martich's mother bequeaths her a heavily (compulsively?) annotated high school yearbook, though it's not from when she graduated, but when she was a teacher to whom the yearbook was dedicated. Daphne, a divorcee with a yoke-tight prenup, tosses it in recycling, only there are more problems on the horizon than the unrecyclable nature of that cloth cover – her neighbor has latched onto it and has big plans to turn the source material into a documentary. Or maybe a podcast. This has the potential to blow up to be rather embarrassing to the Maritch family. Just to make things more complicated, Daphne's father has fallen in love with Manhattan and decides to move into the neighborhood, another neighbor, a bit player on a popular soap opera is sending Daphne mixed romantic messages, and let's not even get into that prominent New Hampshire politician who wants to get to know Daphne better. Can this story possibly have a happy ending? When Lipman, a class act herself, is at the helm, you might not know how this story is going to unravel, but you know it's going to be work out fine and be very funny along the way.
— Daniel Goldin
Description
---
Daphne Maritch doesn't quite know what to make of the heavily-annotated high-school yearbook she inherits from her mother. The late June Winter Maritch was the teacher to whom the class of '69 had dedicated its yearbook, and she, in turn, went on to attend every reunion. Each year, she scribbled notes and observations after each one' not always charitably' and noted who overstepped boundaries of many kinds. In a fit of de-cluttering, Daphne throws the yearbook away. But when it's found in the recycling bin by a neighbor/documentary filmmaker, the yearbook's mysteries' not to mention her own family's' take on a whole new urgency, and Daphne finds herself entangled in a series of events both poignant and absurd.